ID cards for cow vigilantes, funding: Hindutva high on Haryana govt agenda
Nov 08, 2016 08:36 AM IST
In line with its Hindutva agenda over two years, the state government has set aside funds to save cows and enforced a ban on the bovine's slaughter leading to heightened vigilantism.
On the outskirts of Gurugram, hidden by the glitzy-face of development — imposing, glazed buildings and sprawling farmhouses along blacktop roads — stands a weather-beaten board with the name Shri Gopal Goshala.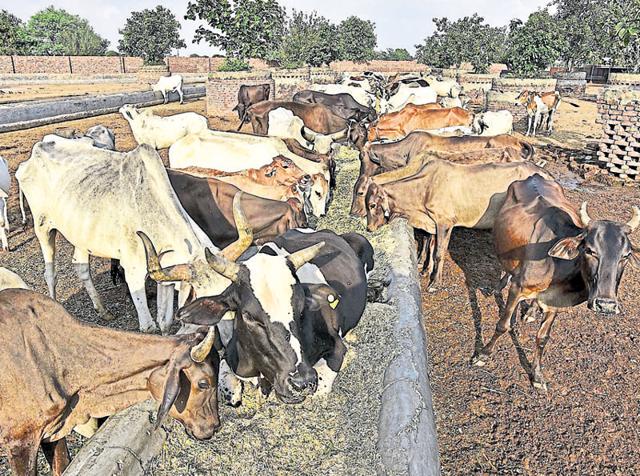 A pointer on this board coaxes you to enter what seems like an outback of the Aravalli range.
A few hundred metres into the wilderness, you are greeted by a pasture-like scene with mooing cows and lush greens. This is Shri Gopal Goshala, spread over eight acres of land and home to over 700 bovines in the suburb of Gurugram.
The Goshala (cow shelter), set up in 1996 by the Vishwa Hindu Parishad (VHP), the hardline affiliate of the Rashtriya Swayamsevak Sangh (RSS) is run entirely on donations.
But, the BJP-led Haryana government's recent decisions, such as setting aside a generous cash purse (estimates put it to Rs 20 crore) for the Cow Commission (Gau Seva Aayog) and providing ID cards to gau rakshaks (cow vigilantes) have imbued hope here that the administration is getting serious about Gau Seva (cow protection).
"It takes us 32 people and Rs 1 lakh a month to run this shelter, but we are determined to keep going, otherwise these (bovines) will end up in slaughter houses," says Tilak Raj Baisala, a VHP functionary and general secretary of the goshala.
Read | Hindutva hotbed: RSS imprint on Khattar government runs deep in Haryana
He is not sure whether or when this goshala will benefit from the government's largesse, but is hopeful that the Cow Commission will set up hospitals for the bovine and sanction grazing land.
Cows-sheds run for philanthropy or religious reasons have existed for long, but the Haryana government's concerted moves to save the bovine is perceived to have several subtexts.
For one, it is being seen as a move to further the Hindutva agenda of the BJP government that draws its strength from its ideological mentor — the RSS.
Even as the government counts the benefits of saving the cow — from economic to ecological — groups such as the VHP and the Bajrang Dal preach reverence for the animal next only to gods and respect for the mother. Religious beliefs lie at the core of their cow protection agenda and their demand for an absolute ban on cow slaughter and import of meat is an offshoot of that.
"People don't realise the benefits of cow protection; it is not just milk, the cow is central to organic farming, you can treat epilepsy and cancer using cow urine and dung. By burning ghee (clarified butter) you can generate enough oxygen to purify the environment," says Surendra Jain, international joint general secretary of the VHP dismissing that cow protection has a communal undertone.
There have been no studies to prove what he says but that doesn't stop him from making such stunning claims.
He is confident that measures such as ID cards for the gau rakshaks will separate criminal elements from the "genuine sevaks". But the extreme vigilantism seen in Haryana often finds victims among communities who are dependent on bovines (mostly buffaloes) for their meat and hides.
Read | Supreme Court seeks reply from Centre, states on gau rakshaks in four weeks
In June this year Rizwan and Mukhtiar, two labourers transporting buffalo meat, were intercepted by one such vigilante group near Gurugram. After being accused of transporting beef illegally, they were thrashed mercilessly and forced to eat "panchgavya" (cow dung concoction). A video of the crime was shot too by the alleged perpetrators.
After the passage of the Gauvansh Sanrakshan and Gausamvardhan (Cow Protection and Development) Bill 2015 in the assembly in March (it bans cow slaughter and the sale and import of beef in the state) the vigilantism has heightened. "Law enforcement has gone up. There is a lot of pressure on the police," said an official requesting anonymity.
Consequently, ahead of the Eid in September, there was a crackdown on eateries selling biryani in the Muslim-dominated Mewat district, ostensibly to check for beef. It was a rumour that led to the crackdown but it effectively ended the livelihood of many.
Haryana agriculture minister OP Dhankar, however, has a one-word reply for the opposition to the state government's focus on the bovine. "Mansikta (mentality)", he says for the criticism being leveled against the government's decision from passing a law to ban and criminalise cow slaughter and beef consumption.
"It is unfortunate that some people have a mentality to politicise everything. Don't we respect the laws in other countries? Beef is banned in Haryana and shouldn't the law and the sentiment of our people be respected,?" the minister says.
The elaborate policies being shaped around the bovine are aimed at improving health, giving economy and agriculture a boost says Dhankar.
He cites government subsidy to those purchasing indigenous cow breeds as an example.
"Countries like Australia, New Zealand and many others in Europe are discovering the benefits of the A2 milk found in desi-cows (beta-casein protein considered a healthier option) that does not cause disorders such as, obesity, diabetes and heart ailment like milk from foreign breed," he says.
The accent on swadeshi, another Sangh Parivaar pet theme, is hard to miss.
With the government concentrating on its 400 gaushalas with 3.5 lakh cows, keeping an eye out for more, those involved in meat trade or skinning of dead animals meanwhile are looking over their shoulders.
Read | 2 years of BJP rule in Haryana: RSS agenda overshadowed govt initiatives
"Exciting news! Hindustan Times is now on WhatsApp Channels
Subscribe today by clicking the link and stay updated with the latest news!"
Click here!
Get
Latest India News
along with
Latest News
and
Top Headlines
from India and around the world