'Unfortunate': IMA slams Kerala's decision to ease Covid curbs due to Bakrid
The IMA warned of moving the Supreme Court if Kerala failed to enforce Covid-appropriate behaviour and become a model state to curb the rising menace of the viral disease, by withdrawing this decision.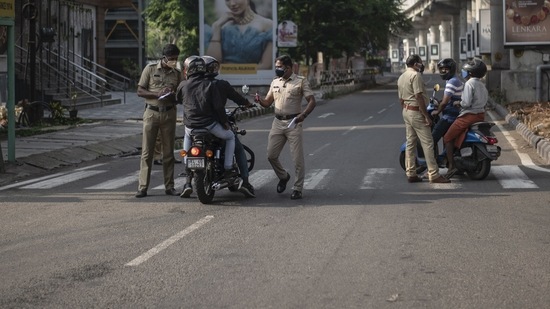 Published on Jul 18, 2021 04:22 PM IST
The Indian Medical Association (IMA) on Sunday expressed its displeasure over the Kerala government's decision to ease ongoing lockdown restrictions for three days due to Bakrid amid the worsening crisis of the coronavirus disease (Covid-19) in the state.
The medical body further said it would knock the doors of the Supreme Court "if the state is not enforcing Covid-appropriate behaviour and become a model state to curtail the rising menace of Covid, by withdrawing this decision".
Stating that the Pinarayi Vijayan-led government's decision to loosen curbs is 'unwarranted and inappropriate at this time of medical emergency', the IMA, in its press release, called for immediate withdrawal of the order and enforcement of a zero-tolerance policy towards Covid-appropriate behaviour. It further urged the administration not to deviate from its statutory duty and vision to ensure the safety of the state as well as the country.
Kerala, which is one of the worst-hit states in India that has, so far, recorded over 3.14 million Covid-19 cases and 15,269 deaths due to the viral disease. On Saturday, the state recorded 16, 148 new infections, the highest single-day spike in one month.
The state government has allowed a relaxation in lockdown restrictions on July 18, 19 and 20 due to Bakrid, which will be celebrated either on July 20 or 21.
The IMA said in its press release that many states in north India such as Uttar Pradesh, Jammu and Kashmir and Uttarakhand have stopped traditional and popular pilgrimage and yatras, adding it is unfortunate that Kerala decided to ease curbs that would pave the way for mass gatherings. Uttarakhand and Uttar Pradesh have called off the Kanwar Yatra in view of the Covid-19 pandemic.
The IMA's statement came just a day after Union minister V Muraleedharan urged the Kerala government to better manage the pandemic and impose a lockdown on a scientific basis instead of taking knee-jerk reactions.
"Now that Bakrid has come, the government has announced a three-day exception for the lockdown. My suggestion is to follow the scientific approach and follow the guidelines of Government of India, ICMR guidelines and WHO. Do not utilise the pandemic as means of having political benefit out of it," Muraleedharan told news agency ANI on Saturday.
Close Story
Personalise your news feed. Follow trending topics