In Mann Ki Baat, PM Modi urges people to shun plastics, be sensitive towards nature
Prime Minister Narendra Modi said the virtues of being sensitive towards nature and protecting it should be embedded in India's culture.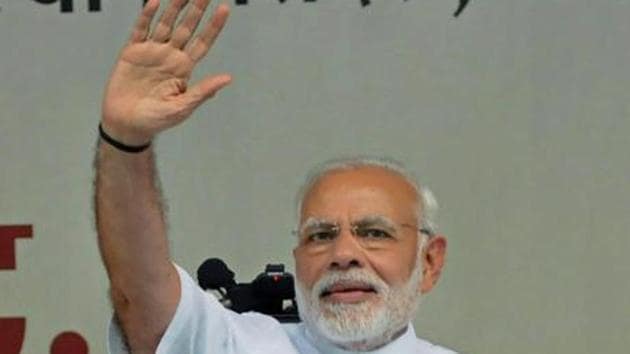 Updated on May 27, 2018 08:26 PM IST
Prime Minister Narendra Modi on Sunday urged the people to shun low-grade plastic and polythene, saying it was creating a negative impact on the environment, wildlife and the health of the people.
In his monthly radio show 'Mann Ki Baat', he asked the people to observe the World Environment Day on June 5 with vigour, and that it was time to concentrate on tree plantation.
Planting saplings is not enough, people should ensure that they care for a plant till it becomes a tree, Modi said.
"Protecting environment and being sensitive towards nature should come naturally. The recent dust storms accompanied by rains was unseasonal. The climate pattern led to the loss of life and property. It is a result of change in weather pattern," he said.
"Whenever we face a torrid summer, or floods, incessant rains or unbearable cold, everybody becomes an expert, analysing global warming and climate change. But does empty talk bring about any solutions? Being sensitive towards nature, protecting nature, should come naturally to us; these virtues should be embedded in our 'sanskar' (culture)," the prime minister said.
He said India was proud to host the World Environment Day this year, which is a major achievement for the country. It, he said, was an acknowledgment of India's efforts to lead the world in reducing the effects of climate change.
"The theme this year is 'beat plastic pollution'. I appeal to you not to use low grade plastic and polythene and understand the importance of the theme. It (use of plastic) leaves a negative impact on our nature, the wildlife and our health," Modi said.
He said when the country speaks of climate justice or plays a major role in the Cop21 and Paris agreements or when it unites the whole world through the medium of International Solar Alliance, they all are rooted in fulfilling the dream of Mahatma Gandhi.
"On this environment day, let all of us give it a good thought as to what can we do to make our planet cleaner and greener. What innovative things can we do," he said.
Modi also referred to the International Yoga Day on June 21.
Quoting an ancient text, he said practising yogic exercises on a regular basis leads to imbibing benefic attributes which stand by our side like relatives and friends.
The practice of yoga leads to building up of courage, which always protects us like a father. The practice of yoga leads to germination of a sense of forgiveness in the same manner as a mother has for her children and mental peace becomes our permanent friend, Modi said.
The prime minister appealed to the people to adopt the legacy of yoga and create a healthy, happy and harmonious nation.
Congratulates mountaineers, Indian Navy's all-women crew
He congratulated five tribal students for scaling the Mount Everest.
The tribal students -- Maneesha Dhurve, Pramesh Ale, Umakant Madhavi, Kavidas Katmode and Vikas Soyam -- from an Ashram School in Maharashtra's Chandrapur, scaled the world's highest peak on May 16.
He also praised several others, including 16-year-old Shivangi Pathak, for scaling the Everest.
Pathak became the youngest Indian woman to scale Everest from the Nepal side.
He spoke about Ajit Bajaj and his daughter -- the first ever father-daughter duo to ascend Everest.
Speaking about a Border Security Force (BSF) group who scaled the Everest and while returning, they brought loads of trash littered there, he said: "This deed is commendable indeed; it also displays their commitment towards cleanliness and the environment."
Modi also congratulated the all-women crew of INSV Tarini for circumventing the globe.
The team, led by Lt Commander Vartika Joshi and comprising Lt Commanders Pratibha Jamwal and P Swathi and Lieutenants S Vijaya Devi, B Aishwarya and Payal Gupta, had sailed out from Goa in September 2017, sailed for more than 250 days and returned home on May 21.
Encourages traditional sports
Stressing that traditional Indian sports like kho-kho and gilli-danda were "fading into oblivion", Modi urged schools and youth organisations to promote them.
"Sports and games that were once a part and parcel of every child's life, in every lane in the neighbourhood, are fading into oblivion. These games used to be a special feature of summer holidays," the Prime Minister said.
He then said that traditional games were structured in such a manner that along with physical ability, they would enhance logical thinking, concentration, alertness and energy levels.
"It is crucial that today, schools, neighbourhoods and youth organisations come forward and promote these games. Through crowd-sourcing we can create a very large archive of our traditional games," he said.
Close Story