In Patidar backyard, calm and confusion
Updated on Nov 24, 2022 07:53 PM IST
This non-descript village, 60km from Ahmedabad and 10km from the town of Viramgam, surrounded by fields of paddy, jowar and bajra, was the epicentre of the Patidar movement, perhaps the biggest political threat faced by the BJP in the state in over two decades.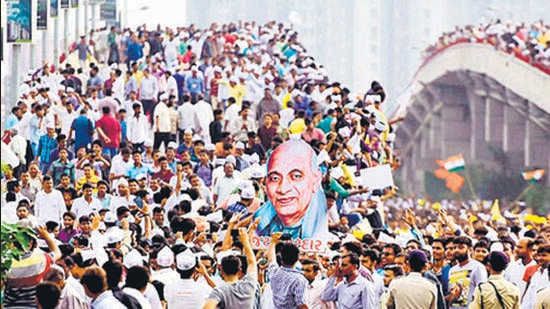 Government signboards and administrative records call the village Chandranagar. Locals have always known it by its colloquial name, Chandan Nagri. But over the past seven years, the village has a new, all-encompassing identity, one that reached its zenith five years ago. For, this non-descript village, 60km from Ahmedabad and 10km from the town of Viramgam, surrounded by fields of paddy, jowar and bajra, was the epicentre of the Patidar movement, perhaps the biggest political threat faced by the BJP in the state in over two decades.
As a newly laid road turns in to the village, which is dominated by Patidars, an imposing cream-coloured arch welcomes visitors. On the top, it has a small figurine of Hanuman, and two "Nandis"(Shiva's sacred bull) on each side. The arch was constructed in May 2021, when the village lost one of its own to Covid; his name is written across the cement structure. "Swargiya Pitaji Bharatbhai Narsinghbhai Patel," the text reads. It means, "departed father Bharatbhai Narsinghbhai Patel" — not just Hardik Patel's father, but Chandranagar's father.
Click here for full coverage of Gujarat assembly election
Chandrakant Patel, a resident and store-owner, points to the arch and says, "His father is our father. Such a big politician has emerged from our midst. We are now proud to be known as Hardik Patel's village."
The year was 2017, and after two decades of BJP rule, something unusual was happening in Gujarat — an election where the Opposition could actually win (the BJP eventually won 99 seats, past halfway, but its lowest tally in two decades). There were several factors underpinning this: anti-incumbency against then chief minister Vijay Rupani; residual anger against demonetisation and GST in a business-oriented state; farmers' anger; and most importantly, a visceral caste-and class-based foment. Beginning 2015, the influential Patidars were up in arms, demanding reservation and OBC (other backward classes) status. OBCs such as the Thakors were angry as well, worried that their community was being ignored and reservation rights would be taken away, and the Scheduled Castes, horrified by the flogging of seven members of a Dalit family in Una in 2016, were visibly upset too.
Most significantly, these movements were not just organic, but revolved around personalities. The 2017 campaign heralded the rise of three new political figures in Gujarat; all young, all unburdened by political history. There was Jignesh Mevani, leader of the Rashtriya Dalit Adhikar Manch-turned politician, Alpesh Thakor, head of the OBC Ekta Manch-turned politician, and the fiery Hardik Patel, the 24-year-old leader of the Patidar Anamat Andolan Samiti-turned politician, all laying down a challenge to the BJP. In 2017, Patel was too young to fight an election and backed the Congress without formally joining the party until 2019; Thakor fought on a Congress ticket; and Mevani fought as an independent. Five years later, Mevani is in the Congress fold, but Thakor and Patel have both pivoted to the BJP.
Key to the 2022 campaign is whether they have taken the 2017 sting with them.
The boy who was up to no good
In a clearing in Chandranagar is a lone rickety all-purpose shop, selling everything from tobacco to toothpaste . Behind the counter is Chandrakant Patel, 50, sitting where he has sat for the past three decades. In front of his shop are two large neem trees, around one of which nine cows are tied. It is afternoon, and it is quiet.
It was in this clearing that Hardik Patel, the son of Bharatbhai Patel, a small-time businessman, spent most evenings of first 12 years of his life. Chandrakant Patel has a son, Amrit Patel, around Hardik's age, and as he watched from his perch behind the counter, his son and the son's spunky friend grew up together. "Hardik lived one minute away in a house like any other in the village. But he was anything but nondescript, always up to mischief. There was an old man, who died some years ago, who lived near the clearing. Every evening, he would come out with his cane, and tell Hardik and his friends not to play cricket there. Every evening, Hardik would make the old man chase after him around the neem tree. He was naughty. But if he was quiet and meek, he wouldn't be where he is now," Chandrakant Patel says.
Also Read| 'Was in Congress. I know...': BJP's Hardik Patel takes swipe at former party
The shop-owner watched as Hardik moved to Viramgam along with his parents when he was in Class 5, and then on to college in Ahmedabad where he first became involved in politics. He watched as Hardik became the face of the Patidar agitation, arguing vociferously for reservations for the influential community that forms around 15% of the state's population but wields much more than that in clout. He watched as the angry young man from Chandan Nagari took on the BJP, joined the Congress, and even faced sedition charges. And then watched as Hardik joined the BJP, the same party he had once led violent protests against.
"It is a little strange that Hardik is now with the BJP, which he fought against. But he always stands for the rights of our community. The Congress was never going to win. In the BJP, he can make a difference. Already, he tells us that the EWS quota that got approved in the Supreme Court is a step in the right direction. He is now not only the boy our whole village is proud of, but a boy the whole Patidar community is proud of," Chandrakant Patel says. His reference is to the 10% reservation in educational institutions and government jobs for economically weaker sections belonging to castes such as the Patidars (non-OBC, and non-SC/ST).
Lingering doubt amid a dithering Opposition campaign
In the town of Viramgam, Ramesh Patel is less enthused by, and even angry at Hardik Patel's pivot.
"If he was going to join the BJP because he wanted to rise in politics, why did he fight so vociferously against them? In Mehsana, people died in the violence that took place. The government jailed Patidars, and beat them. I have not forgotten. All cannot be forgiven so easily. But it seems Hardik has both forgiven and forgotten," said the man who runs a grocery store in town. Mehsana is where in August 2015 the Patidars launched their agitation, which lasted for close to two years, saw violent protests, and left at least nine of the community dead.
Not everyone agrees with him.
The store is close to the Jhalawadi Kadwa Patidar Society, where Hardik Patel moved with his parents when they moved out of Chandan Nagri. Sukesh Patel, 22, Ramesh Patel's nephew, has therefore known of Hardik for well over a decade. "I don't know him personally. But everyone in the locality was always aware of Hardik, because how quickly he was rising in politics on the back of the Patels. I am 22 years old, and looking for work. Our entire movement in PAAS was for specific rights for Patidars, and this EWS quota is not the same thing. But it is also true that there was no future in the Congress in the state. If Hardik had gone to the AAP, I would have followed him happily. But now that he is in the BJP, at least for this election cycle, I will back him," Patel said. PAAS or the Patidar Anamat Andolan Society was the body launched by Hardik Patel to fight for the community.
But if there is a key lesson from political history here, it is that not always does a community, or even a constituency, follow their leader when they shift loyalties, and local factors do matter. Take Radhanpur for instance, where Alpesh Thakor fought on a Congress ticket in 2017 and won by a margin of close to 15,000 votes. Two years later, Thakor fought the bypoll on a BJP ticket, having vacated the seat when he switched parties. He lost by just short of 4,000 votes. In 2022, facing protest from the local BJP unit, Thakor has been given a ticket from Gandhinagar South and not Radhanpur, which is instead being contested by Lavingaji Thakor, the man he beat five years ago.
On paper, Viramgam, where Hardik Patel, now 29, is contesting from, is still a challenge. In both 2012 and 2017, the Congress beat the BJP in the seat, and its candidate is the sitting MLA Lakhabhai Bharwad, well-respected locally, and the party's state vice-president. But even local Congress leaders admit that 2022 is nothing like 2017.
"We still have the issues on our side, but no campaign. Of course the Patidars are still angry, and there are issues like inflation. But who is creating the hawa (mood) for us? Rahul Gandhi only came twice on Monday and has not travelled. There is no sense of urgency, and candidates are fighting on personal reputation alone. Last time, because Hardik was holding one rally here and one protest there, as were Alpesh and Jignesh, there was a real electricity in the air," a disgruntled local Congress leader said.
Back at Chandrapur, Chandrakant Patel is also grateful that he no longer has to make a choice between two men close to his heart. In the 1980s, the Congress stitched together a new social block popularly known as the KHAM (Kshatriya, Harijan, Adivasi and Muslim) that ruled its politics, isolating the Patidars, who then over the years shifted their allegiance to the BJP. Then, in 2002, along came Narendra Modi, an OBC by caste, but a man that evoked Gujarati pride like very few before him. "For years I have backed Modi. But when Hardik led the agitation against the stubborn BJP that was refusing to listen, we had to choose between him or Modi. This year, we don't have to. This year, it is Hardik and Modi," Patel said.
This Republic Day, unlock premium articles at 74% discount
Enjoy Unlimited Digital Access with HT Premium
Topics