India image enhanced by lines of credit, says Jaishankar
Economic diplomacy is a major part of the activities of Indian missions abroad, and 300 lines of credit with a total value of more than $30 billion extended to about 70 countries have enhanced India's image and opened up new opportunities for domestic businesses, he said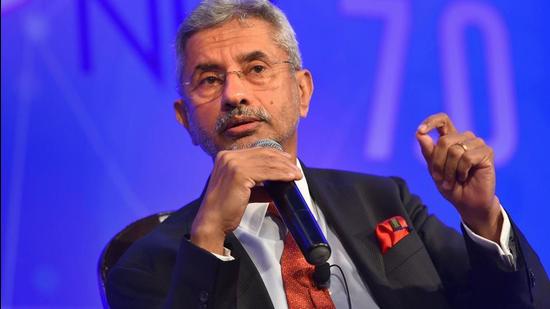 Published on Dec 18, 2021 12:01 AM IST
India is very prudent about new free trade agreements (FTAs) because such pacts signed over the past 25 years affected domestic supply chains and had not provided adequate benefits to Indian businesses, external affairs minister S Jaishankar said on Friday.
Economic diplomacy is a major part of the activities of Indian missions abroad, and 300 lines of credit with a total value of more than $30 billion extended to about 70 countries have enhanced India's image and opened up new opportunities for domestic businesses, he said during a conversation at the annual convention of the Federation of Indian Chambers of Commerce and Industry (FICCI).
"When it comes to new FTAs, we are very prudent...we need a lot of analysis of the person with whom you are getting into a relationship. It's not like everybody is the same," Jaishankar said, adding that he works closely with commerce minister Piyush Goyal and finance minister Nirmala Sitharaman on such issues.
India's priorities for FTAs reflect strategic convergences and domestic business comforts. "I would hope very much that in a few years from now, we will end up with a better set of FTAs," he said.
Jaishankar said India has had "a very tough experience" with FTAs over the past 25 years because it was largely dealing with "non-market actors". He added, "As a result, we have seen in many cases our domestic supply chains very badly affected. In some sectors, they've completely hollowed out."
Some economies with which India finalised FTAs were very protective of their supply chains and MSMEs, and even competitive Indian products were not selling because of non-tariff barriers. "We've got to get real about this...I have some discomfort with the old mantras of globalisation," he said.
"If after 25 years of mounting evidence, if you're not listening then we are in trouble," he said. The government listens to the problems of domestic businesses and this led to the push for reviewing FTAs with many partners.
Indian embassies have placed trade and business at the forefront, and regularly take up policy and regulatory issues with host governments and speak up for India's economic interests abroad, Jaishankar said.
The 300-odd lines of credit worth more than $30 billion were extended for some 600 projects in 70 countries, and they helped promote projects and Indian products. At the same time, India has provided 80 grants worth around $5 billion to some 12 countries. These are great platforms for Indian companies to promote their products and abilities and such partnerships create jobs and enhance the strength of the country, he said.
India also couldn't have ramped up the production of Covid-19 vaccines without economic diplomacy, which helped open supply chains for ingredients from the US, Jaishankar said. However, he pointed out that the post-pandemic world would be difficult and tougher, and India will need to "look at supply chains in a very different way".
Talking about the situation in Afghanistan, Jaishankar said it had been clear since the second term of US president Barack Obama that American forces would be withdrawn from the war-torn country. "At one level, it's not a surprise but I would say a lot of the concerns came from how those negotiations (with the Taliban) took place in Doha and how it then unfolded on the ground," he said.
"As a proximate neighbour we are very concerned. After all there is some history there," he said, adding the world community has reached a basic consensus on helping on humanitarian issues while calling for a more inclusive government and counter-terrorism measures.
Jaishankar said the standoff with China on the Line of Actual Control was "largely because they are not following agreements" and acting like a party that has "violated a contract".
Close Story
Personalise your news feed. Follow trending topics