PM Modi says India, Russia natural partners in fighting terror
Jun 01, 2017 12:32 AM IST
We have been together in times - good and bad, Modi wrote in an article published in Russian newspaper Rossiyskaya Gazetta.
India and Russia are "natural partners" in fighting terrorism, Prime Minister Narendra Modi said on Wednesday as he asserted that the two countries must strive to open new vistas to broaden their ties that has "withstood the test of time."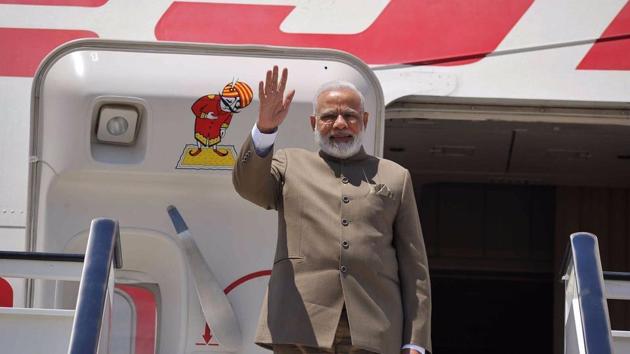 "We have been together in times - good and bad," Modi wrote in an article published in Russian newspaper Rossiyskaya Gazetta.
The prime minister's article came ahead of his visit to St Petersburg where he will hold the 18th India-Russia annual Summit with Russian President Vladimir Putin on Thursday and attend the St Petersburg International Economic Forum where India will be the partner country for the first time.
"India-Russia relations have been the one constant in a world that has changed dramatically since 1947. They have withstood the test of time, and grown from strength to strength. The resilience of our relationship is based on the fact that it rests on the principles of equality, trust and mutual benefit," Modi said.
He hailed erstwhile Soviet Union's help to India to build its industrial base.
"In the last 70 years, India has developed a large and diversified industrial and technological base. We are among the fastest growing large economies of the world. The potential for India's accelerated growth has never been greater, nor the optimism higher," he said.
Russia has re-emerged from the events of 1991 as a global power with international reach and influence, he said, adding that its economy has been modernized and a new generation is driving the country forward.
"Our cooperation in the military technical field is a pillar of great strength in India-Russia relations. Russian equipment and technology is the mainstay of our defence forces," the prime minister said.
"The symbols of our contemporary partnership today include Indian investments in Sakhalin 1, and now the Vankor and Taas-Yuryakh oil fields, the nuclear power plant at Kudankulam and the Brahmos Joint Venture Project," Modi added.
India has been an important contributor to the pharmaceutical industry of Russia. "But we cannot and should not be satisfied with our achievements and must strive to open new vistas. We should fully exploit our mutual complementarities based on our large markets, resource endowments and industrial and technological base," he said.
He said both countries are opening new areas of cooperation in the energy sector, telecommunications and science and technology and they have set up funds to facilitate investment in high technologies.
"We are exploring new areas of cooperation like railways, innovation, IT, diamond trade, and infrastructure. There are efforts towards greater joint production and technology transfer from Russia to India," he said.
Modi welcomed Russian companies to join his government's flagship programmes such as Make in India, Start Up India, Skill India and Digital India.
"The significance of our relations goes beyond the bilateral sphere...Our partnership has contributed to global peace and security. We have supported each other's key interests. We are important stakeholders in upholding the stability of the international political, security, economic and financial order," he added.
Noting that new centres of influence and new engines of growth are emerging, he said at a time of "multiple global challenges, our cooperation becomes all the more necessary."
Noting that the biggest threat to civilised societies comes from terrorism that is more lethal and more organised today than ever before, he said, India and Russia "are natural partners in fighting terrorism unitedly and with determination and to promote a multi-polar international system based on the central role of the UN and international law."
Modi said the policy of building strong relations with Russia enjoys crosscutting national consensus in India and every government in India since 1947 has accorded the highest priority to developing close relations with Russia.
"My government is not only committed to following this policy, but taking our relations to newer heights," he added.
Modi recalled his first visit to Russia in 2001 with then Prime Minister Atal Bihari Vajpayee and said he was struck by the achievements of Russia, its sense of history and the pride of its people.
Russian writers like Dostoevsky, Pushkin and Chekov influenced Indian thought and drama. Yoga, Indian films, songs and dances remain an abiding bond between our people, he said.
"I pay homage to all those, known and unknown, who have toiled and contributed to the development of the unique relationship between our two nations," he said.
"We are committed to building on this legacy and bequeathing to our youth a strong and vibrant partnership that will contribute to changing the world for the better."
"Exciting news! Hindustan Times is now on WhatsApp Channels
Subscribe today by clicking the link and stay updated with the latest news!"
Click here!
Get
Latest India News
along with
Latest News
and
Top Headlines
from India and around the world