Fear, unease growing among Muslims in India, says outgoing vice president Hamid Ansari
Updated on Aug 10, 2017 12:25 PM IST
In his parting interview to Rajya Sabha TV, vice president Hamid Ansari ruled out possibilities of Indian Muslims getting influenced by ISI and such other elements but mentioned that it would be a correct assessment to say that the Muslim community is feeling insecure.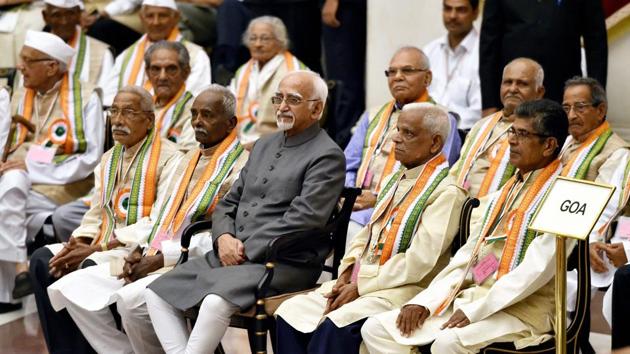 Hindustan Times, New Delhi |
HTC and Agencies
A feeling of unease and insecurity is creeping in among Muslims in India, vice president Hamid Ansari said, joining a growing number of leaders who have expressed concerns over attacks on minorities.
Ansari, who completed two terms as vice president on Thursday, said that there is a breakdown of Indian values and of the abilities among authorities at different levels in different places to be able to enforce what should be normal law enforcing work.
"Overall, the very fact that Indianness of any citizen being questioned is a disturbing thought," he said in his parting interview to Rajya Sabha TV, released on Thursday.
On Wednesday, Congress president Sonia Gandhi raised similar concerns during a speech in Parliament where she urged people to not let "dark forces" diminish India's core values.
Neither Ansari nor Gandhi named any party or individual in particular, but their statements can be seen to allude to the leadership of the Bharatiya Janata Party, which the Congress party and other opposition outfits often accuse of pandering to right-wing Hindu ideologies.
Ansari was a member of the Congress before being nominated Vice President in 2007.
In his interview, Ansari said that he shared his apprehensions to the Prime Minister and other cabinet ministers, but refused to divulge details of their interaction on the plank that "what passes between the vice president and the Prime Minister in the nature of things must remain in the domain of privileged conversation."
Ansari was asked a question on his lecture at the National Law School in Bengaluru earlier this month where he said rejuvenating secularism's basic principles was becoming a challenge.
"Yes, it is a correct assessment. From all I hear from different quarters, the country. I heard the same thing in Bengaluru, I have heard from other parts of the country, I hear more about in north India. There is a feeling of unease, a sense of insecurity is creeping in," he told journalist Karan Thapar during the interview after being asked to reflect on his statement in Bengaluru.
The outgoing vice president also ruled out the possibility of Indian Muslims being influenced by militant outfits.
Ansari, the only two-term vice president after S Radhakrishnan, also voice advice for Muslim community.
"Do not create for one self or one's fellow beings an imaginary situation which is centuries back, when things were very different. I mean the whole idea was that what are the challenges today... The challenges today are challenges of development, what are the requirements for development; you keep up with the times, educate yourself, and compete..."
He said the issue of Triple Talaq is a social aberration and the reform has to come from within the community. "The religious requirement is crystal clear, emphatic, there are no two views about it but patriarchy, social customs has all crept into it to create a situation which is highly undesirable."
Former union minister Venkaiah Naidu has been elected as his successor and Ansari thinks that the nature of the job (chairman of Rajya Sabha) will dictate the response and there is no reason why the Opposition will not get a fair deal under Naidu's chairmanship.