India's opposition can affect China-Pakistan Economic Corridor in short run: Chinese media
India is protesting against the CPEC as it passes through the Pakistan-occupied Kashmir (PoK).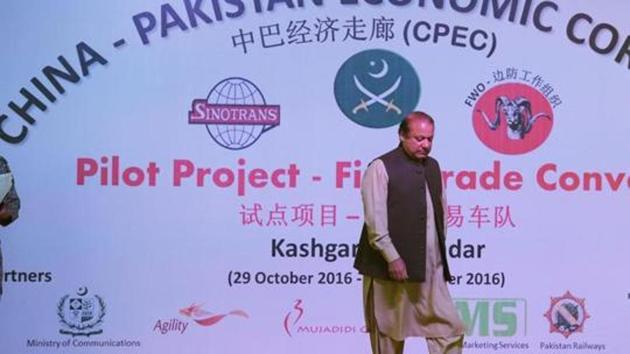 Updated on Jun 27, 2017 02:19 PM IST
Press Trust of India, Beijing |
Press Trust of India
The construction of the USD 50 billion China-Pakistan Economic Corridor may be hit in the short run due to India's objections but if Beijing and Islamabad are firm about their cooperation, they can dispel New Delhi's doubts, a report in state-run Chinese media said.
India is protesting against the CPEC as it passes through the Pakistan-occupied Kashmir (PoK).
"Some people believe obstruction by India may become a stumbling block to the development of the China Pakistan Economic Corridor (CPEC)," an article in the official daily Global Times said.
In fact, India's "rejection" is mainly because the corridor passes through Pakistan-occupied Kashmir. The corridor's construction may be affected in the short term, but from a long-term perspective, China and Pakistan can dispel India's doubt to the maximum degree if they are firm about their cooperation and actively interact with neighbouring countries, it said.
The article written by a researcher who worked in Pakistan said Chinese investments there could make profits.
"The return rate of the CPEC for China is generally higher than that in other countries. Pakistan is required to pay 17 per cent of the investment deposit for each project," it said, providing rare details about the conditions laid down for Chinese investments in Pakistan.
"At present, China has invested in 51 projects in the CPEC, with 19 already complete. Pakistan has announced that the total investment has reached USD 50 billion. That number is based on projects that are currently running, and the final number will exceed it," the article said.
In addition to the CPEC, China has invested in more than 200 projects in Pakistan. Its investment in the Hualong One Nuclear Power project near Karachi amounted to USD 6.5 billion, it said.
The investments mainly focus on energy and infrastructure, which are urgently needed for Pakistan's economic development.
It also sought to dispel fear about Chinese workers' safety in Pakistan after two Chinese were killed in Balochistan allegedly by the Islamic State militants.
"Many Chinese have serious concerns about the security environment and prospects of the CPEC after the recent kidnapping and alleged murder of their compatriots there," the article said.
"But I found the misgivings were not necessary after carrying out on-the-spot research at Chinese and local enterprises in Pakistan, and visiting scholars and research fellows at various universities and think tanks," it said.
Despite the recent tragedy, the overall security situation in Pakistan has improved, the article said.
"Attacks on Chinese people mainly occurred in Balochistan, where the security situation has been truly deteriorating," it said.
Close Story
Personalise your news feed. Follow trending topics