India-US ties: 2017 was 'Kabhi khushi, kabhi gam'. How will 2018 pan out?
In India-US ties, Pakistan is likely to be the main foreign policy issue between the two countries as New Delhi will look for follow-up actions by the Trump administration on its tough rhetoric to force Islamabad to act decisively against terrorists operating from its soil.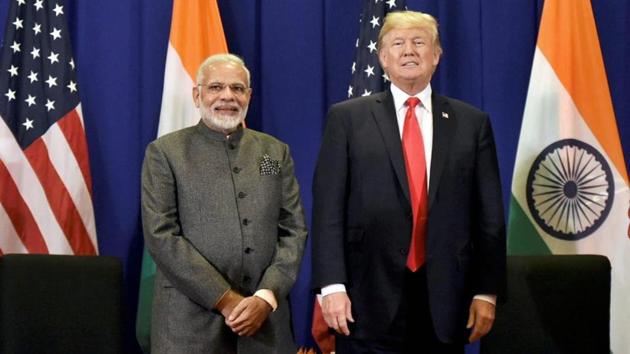 Updated on Dec 30, 2017 09:31 AM IST
Washington, Hindustan Times |
Yashwant Raj
As a van carrying a group of reporters to the White House straightened after making a right, a muted yell went up from a corner: "They hugged". They being Prime Minister Narendra Modi and his host President Donald Trump.
They would hug two more times before the day was out. It was June 26, 2017.
They have met several more times since, and hugged. The two leaders and the countries have moved past the usual awkwardness that comes dealing with a new US administration, especially one led by such an unpredictable president. Officials on both sides say the leaders share a close rapport.
They will need every bit of that, and more, as their governments deal with trade and immigration — read H-1B visas — which are likely to emerge as top challenges confronting relations in 2018, the year Modi shifts into election mode for the 2019 general election and Trump gets his administration moving.
Pakistan is likely to be the main foreign policy issue between the two countries as New Delhi will look for follow-up actions by the Trump administration on its tough rhetoric to force Islamabad to act decisively against terrorists operating from its soil, across both its eastern and western borders.
Trade, however, is likely to pose the first challenge, starting as early as a second past December 31 midnight, and into the new year, with the lapsing of the Generalised System of Preferences (GSP), a programme that allows selected developing countries to export some products duty-free to the US.
The last extension, in 2015, came nearly two years after the expiration date, with retroactive effect. There is no word yet on the administration's plans or Congress, which has to legislate the renewal. This could take anything "around six months or more", said an official on condition of anonymity.
India is GSP's top beneficiary, and hopes to continue the preferential treatment. It exported goods worth $4.7 billion to the US under GSP in 2016, more than any other country and equal in worth to nearly 10% of its exports to the US under normal trade relations of $41.36 billion.
During that period, India expects to come under pressure, multiple sources have said, to yield ground on some continuing market issues such as removing the price cap on stent devices used in heart surgeries, opening up its poultry sector to US imports, and implementing a WTO adjudication verdict.
India will have to pay a price if wants to continue on the list — withstanding pressure from some critics who have argued India doesn't need that kind of help any longer — and which will not be easy for Modi to pay, specially so close to a general election.
There are other trade issues between the two countries, such as the matter of trade deficit, that has been alleviated to an extent by Indian purchase of US crude and gas and a large order of civilian use aircraft. But market access and related issues have been an irritant for a while, and 2018 might be no different.
There will be then the issue of immigration, specially the H-1B short-term work visa programme under which US companies can hire foreign workers for speciality jobs. Indians account for 70% of all H-1B visas — 87% of whom, a point often missed, are hired by US companies, and only 13% by Indian firms.
Trump, a critic of the programme, and his administration have already changed some aspects of it such as redefining speciality to raise the bar, and a slew of changes expected in 2018 through administrative and legislative measures could change it beyond recognition.
"Indian companies will be hit," said an Indian official speaking on background, "but we feel Indian professionals hoping to work in the US could remain unharmed or may even benefit." Trump's resolve to switch to merit-based immigration, the official said, could benefit Indian professionals.
Pakistan will be a key issue, and one on which India would hold the US to its words, specially the tough language used by Trump and his top officials.
A failure of the Trump administration to match deeds to its words would "underscore India's longstanding concern that the US government insists on maintaining workable relations with Islamabad despite Pakistan's continued support for terrorists that target both Americans and Indians", said Michael Kugelman, a South Asia expert with Wilson Center, a leading US think tank.
Year 2018 will pose other challenges — such as the continuing clash of Modi's and Trump's "Make in India" and "Buy American, Hire American" vision for spurring domestic manufacturing, but overall, experts and officials said, the relationship is headed north, all conditions remaining the same.
2017 rewind
The leaders: Prime Minister Narendra Modi was among the first world leaders to speak to President Donald Trump after his inauguration, ahead even of Prime Minister Theresa May of Britain, a close US ally.
They went on to strike a close personal rapport, based on several phone calls and at least three meetings, including one in the White House on June 26 that stretched over several hours, and included a reception for the visitors thrown by first lady Melania Trump.
The convergence: Trump's tough talking on Pakistan's record on counter-terrorism and explicit warnings that the US will "no longer be silent" aligned with India's long-standing frustration with cross-border terrorism backed by Islamabad.
The Trump administration and New Delhi have identical views on China's predatory One Belt, One Road initiative, and the two countries raised their concerns on multiple platforms. Indo-Pacific, a phrase used to describe the region is commonly used by both, to much irritation in Beijing.
On Afghanistan, the US wants India to step up its cooperation under Trump's new South Asia strategy, mostly in the economic and infrastructure sectors.
The dissonance: Chiefly, trade and immigration — H-1B. The Trump administration is investigating India and other countries with whom the US is running massive trade deficits. India has sought to close the gap with massive purchases of American crude and gas, and other big-ticket items such as civilian aircraft.
H-1B was going to be a major irritant, as Trump had indicated as a candidate, and it was, with the administration singling out Indian IT companies with US operations for criticism, alleging they were "gaming" the system. Trump has ordered a review of the programme and every visiting Indian official has said they raised the issue "very strongly" with their American counterpart.
Modi's "Make in India" and Trump's "Buy Americans, Hire American" have similar, clashing objectives of boosting domestic manufacturing through inward-looking incentives. But they have so far lived in happy co-existence.
The race issue: Srinivas Kuchibhotla, an IT engineer from India became one of the first victims of the surge in racial and ethnic crimes unleashed by Trump's election
Close Story
Personalise your news feed. Follow trending topics