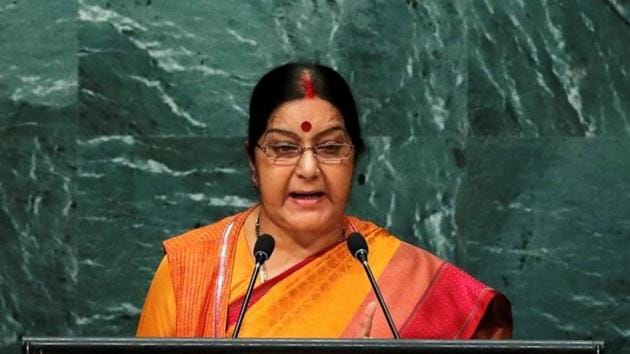 Arab nations cutting ties with Qatar GCC's internal matter, says Sushma Swaraj
Indians are the largest expatriate community in Qatar, the same way they are in Saudi and UAE the two key countries who are in the opposite camp.
New Delhi | By Agencies
UPDATED ON JUN 06, 2017 12:23 AM IST
India will not be impacted by some Gulf countries cutting off diplomatic ties with Qatar, external affairs minister Sushma Swaraj said on Monday even as Kerala chief minister Pinarayi Vijayan sought the Centre's intervention to ensure safety of 6.5 lakh Indians, including Keralites, residing in the Arab kingdom.
Swaraj said India was trying to find out if any of its nationals is adversely impacted due to the development.
"There is no challenge arising out of this for us. This is an internal matter of GCC (Gulf Coordination Council). Our only concern is about Indians there. We are trying to find out if any Indians are stuck there," she told reporters.
She expressed hope that things will get normal within the GCC as such things have happened in the past as well.
Saudi Arabia, the United Arab Emirates, Bahrain, Yemen and Egypt accused Qatar of supporting terrorism, opening up the worst rift in years among some of the most powerful states in the Arab world.
Gulf Arab states and Egypt have already long resented Qatar's support for Islamists, especially the Muslim Brotherhood which they regard as a dangerous political enemy.
'Ensure safety of Indians in Qatar'
In letters to Prime Minister Narendra Modi and external affairs minister Sushma Swaraj, Vijayan said he was writing the letter in the context of the developing geo-political situation in the Middle East.
"As you are aware millions of Indians are working in countries in the Middle East and therefore the geo-political developments in the region have raised deep concerns among the people in the state since each family has at least one family member or a relative in the region," he said.
There are about 6.5 lakh Indians in Qatar, of which nearly three lakh people hail from Kerala, Vijayan said, expressing concern on their safety and employment in Qatar.
"I would like to place on record the full support of our state to the considered stance that Union government would take on the issue, given the complexities involved," he said.
Vijayan also wanted the Indian Embassy in Doha to be "suitably empowered" to respond presciently to the concerns of the Indian community in the country.
Close