Kashmir: Army jawan kills Major who reprimanded him for using cellphone on duty
Updated on Jul 18, 2017 11:26 PM IST
Army Major Shikhar Thapa, who was shot dead by a jawan, belonged to 71 Armoured Regiment but was attached to 8 Rashtriya Rifles, the army's elite counter-insurgency unit deployed in Uri, close to the Line of Control.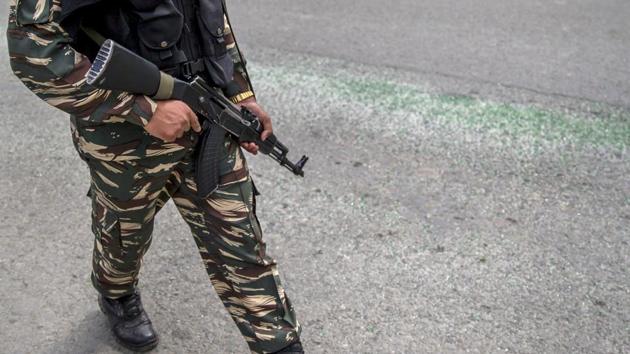 Angry over being pulled up for using cell phone on duty, an army jawan posted in Jammu and Kashmir's Uri sector pumped five bullets into a major, killing him on the spot late on Monday night.
Major Shikhar Thapa, of 71 Armoured Regiment but attached to the counter-insurgency unit 8 Rashtriya Rifles (RR) close to the Line of Control in Uri, had pulled up Naik Kathiresan, of 19 Madras Regiment, for using his mobile phone at the sensitive post and told him he would be reported to his commanding officer.
Soldiers are discouraged from using mobile phones at forward posts as it could expose them to hostile fire. "The light flashes on your face and can give away your position," an officer said.
The phone was damaged while being confiscated, which led to an "altercation" after which Kathiresan shot the officer with his AK-47 rifle.
"The major was shot from behind with two bursts of fire," sources said.
The army and police are investigating the incident, an army spokesperson said, confirming the fratricide.
Thapa, who was commissioned into the army in December 2011, is survived by his wife Suvidha and a three-month old son. He had been with the RR unit for nearly two years.
Kathiresan's unit, 19 Madras, was in news last year after it lost 10 soldiers, including Lance Naik Hanamanthappa Koppad, in an avalanche in Siachen.
Incidents of fratricide have reduced in the army over the last decade as the force has taken a raft of measures to address the issue.
For instance, there were 12 cases of fratricide during 2012-15 compared to 23 cases reported in 2006 alone. The defence ministry told Parliament two years ago that stress and personal/financial problems could be the triggers for such killing.
Steps taken by the government to prevent fratricide include professional psychological counseling, workshops on mental health, meditation being made part of unit routine, yoga classes, improvement in living conditions and liberalised leave policy. Apart from fratricide, more than 100 cases of suicide are reported every year in the armed forces.
Close Story
Personalise your news feed. Follow trending topics