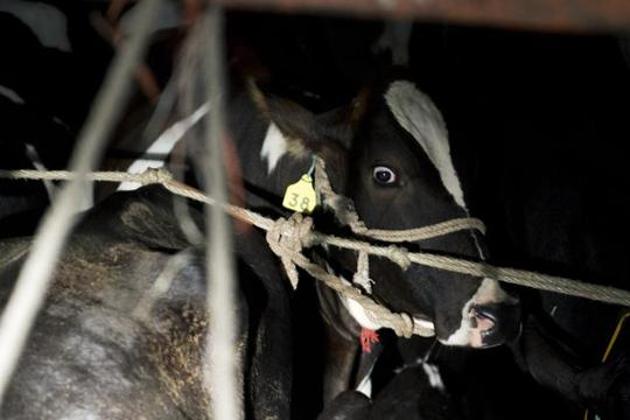 Inter-state cattle transport: Rajasthan 'nodal' officer ignorant about permit norms
Jaipur SDO says he is not entitled to issue any transit permit, contradicting a Rajasthan bovine protection law
UPDATED ON APR 14, 2017 07:55 PM IST
A sub-divisional officer in Jaipur, who is ostensibly vested with the responsibility of issuing transit permit for inter-state transport of bovines, denied having any such authority, giving a new twist to the controversy over recent lynching of a cattle farmer in Rajasthan.
"Mein koi permit nahi deta hun, na maine koi permit issue kiya hai (Neither I issue any transit permit, nor I have ever issued one)," was the curt reply of Baldev Ram Bhojak, a Jaipur SDO.
His reply assumes significance as according to Rajasthan bovine protection law, he is authorised to issue the inter-state transport permit. Rajasthan home minister Gulab Chand Kataria after lynching of Pehlu Khan by self-styled cow vigilantes in Alwar on April 1, claimed the slain cattle farmer did not possess a valid permit issued by the SDO for transporting the cow.
Relatives of Khan, who was beaten on suspicion of being a cattle smuggler, claimed he was killed despite having all papers related to the purchase of the cow.
The SDO's statement exposed ignorance of even government officials about the provisions of the law. Incidentally, Rajasthan is the only state in country to have a dedicated department for cow protection and welfare.
When asked who issues the permit, the SDO feigned ignorance.
As per the Rajasthan Bovine Animal Act, 1995, for transporting cattle outside the state, the traders need permission from the district collector or the SDO, as nominated by the collector. No such permit is required for transporting cows within the state.
Cow slaughter and consumption of beef are banned in Rajasthan.
Jaipur collector Sidharth Mahajan, the 'competent authority' for issuing permits as per the law blamed traders for flouting norms.
"We can only issue permits when someone approaches us. No one, including Pehlu Khan, has come to us for the permit this year," he said.
Khan, a resident of Mewat in neighbouring Haryana had made his last purchase at the weekly pashu hatwara (cattle market) in Jaipur, which falls under Mahajan's jurisdiction.
Joint director, animal husbandry Dr JR Bairwa said no transit permit has been issued in Jaipur in 2017.
While HT found that many cattle buyers take animals outside the state on regular basis, the official records show a different picture. In 2017, only two transit permits have been issued for transporting cows outside Rajasthan, as per the records of the state's animal husbandry department. Both were issued by SDO Ajmer to one trader from Allahabad.
This, however, doesn't include the purchase made at the annual state level cattle fairs, where the concerned SDO himself sit and issue permits.
LACK OF AWARENESS
Jaipur collector, however, refused to admit that there was a general lack of awareness about the permit norms.
"Ignorance of law is not a defence," he said. "In south Rajasthan where a large number of cows are transported to Gujarat, everyone takes a permit," he explained.
Rajasthan hosts ten state level cattle fairs where animals, including cows, are sold and purchased. Apart from these fairs, smaller cattle fairs and weekly markets are organised in several districts of the state.
Though most of the smaller fairs and cattle markets are recognized by local bodies and cater mainly to local population, traders and farmers from other states also visit them.
This year, four fairs have been organised-– two in Nagaur and one each in Barmer and Karauli. No permits were issued in Mallinath fair in Barmer and Baldeo fair in Nagour. At the Ramdeo fair in Nagaur and Shivratri cattle fair in Karauli, a few permits were issued for transporting cattle outside Rajasthan.
With HTC inputs from Jaipur
Close