Is preacher Zakir Naik holed up in Malaysia?
Apr 25, 2017 01:15 AM IST
IRF founder Zakir Naik was spotted last week in Malaysia where he has permanent residency
Controversial televangelist Zakir Naik , who is wanted by Indian security agencies for making inflammatory speeches and for the money dealings of his Mumbai-based Islamic Research Foundation, was spotted in Malaysia last week. He was apparently presented an award by Malaysian group Perkasa for his contributions to the cause of Islam. The group put up photographs and videos online of the function.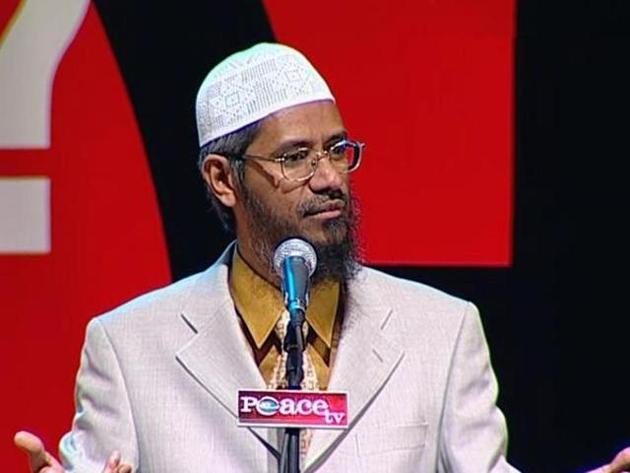 The local media has quoted government officials to say Naik was given permanent resident status in Malaysia five years ago. Indian security experts, who spoke on condition of anonymity, said they suspected that Naik was now holed up in Malaysia.
The Mumbai enforcement directorate, which recently got a non-bailable warrant against Naik, said the visit was under the scanner. "We are looking into it," said a high-ranking Enforcement Directorate officer.
India has signed MLAT (mutual legal assistance treaty) with 38 other countries, including Malaysia. The authorities said they are exploring the options under the treaty. "Efforts to bring him back will continue," said an officer.
The treaty, however, does not cover execution of arrest warrants.
Malaysian officials have already hinted they would cooperate with India on the investigations.
The treaty defines assistance as taking evidence or statements of people, making arrangements for people to give evidence or to assist in criminal investigation, including the transfer of people in custody, executing searches and seizures, examining objects and sites, providing relevant documents and records, including bank, financial, corporate or business records, providing objects, among others.
A special national investigation agency (NIA) court and a special Prevention of Money Laundering Act (PMLA) court has issued two separate non-bailable warrants against Naik.
After the ban of Islamic Research foundation (IRF), in November 2016, the NIA registered a case against Naik and others for allegedly radicalising youth.
The ED then registered a case against IRF and others for money laundering.