ITBP float returns to Republic Day parade after 20 years, to show China border patrol
Press Trust of India, New Delhi |
Press Trust of India
Jan 24, 2018 10:57 PM IST
The Indo-Tibetan Border Police float for the Republic Day parade will feature armed troops riding snow scooters, troops patrolling on foot and snow bunkers in the icy heights.
Twenty years after its tableau rolled down the Rajpath, the ITBP will return with its float in the Republic Day parade showing troops patrolling the China border on their newly-inducted snow scooters.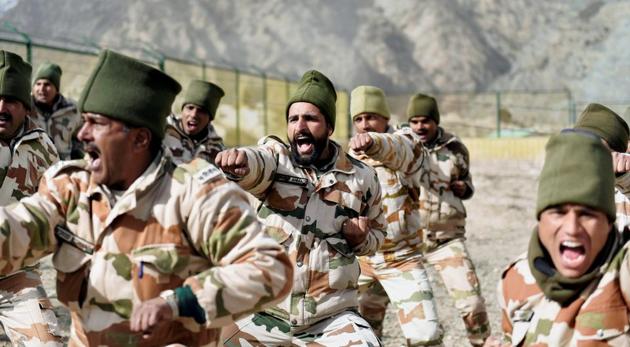 The Indo-Tibetan Border Police (ITBP) is the only one among the multiple paramilitary and border guarding forces that will have a tableau in the parade.
Armed troops riding snow scooters, provided by the government to the ITBP last year as part of modernising the force, troops patrolling on foot and snow bunkers of the ITBP personnel deployed in the icy heights of the frontier have been showcased on the float.
It will also be accompanied by a small marching contingent of personnel wearing winter clothing. The personnel will also be shown negotiating dangerous hilly crevasses and treacherous ice slopes.
"The tableau will showcase high-altitude Himalayan borders, snow terrain, achievements in mountaineering, river rafting and adventure sports, latest clothing equipment among others," an ITBP spokesperson said.
The float will roll down the Rajpath with the tune of the force song Hum Sarhad Ke Senani, in the vocals of singer Sonu Nigam.
The last time the tableau of the ITBP featured in the parade was in 1998.
That float was about mountaineering and adventure sports only but this time the ITBP tableau will showcase arms, equipments and regular duties rendered by the force in safeguarding the border which has seen a number of standoffs between the Indian and Chinese forces recently.
"The hard life of the ITBP jawans is also depicted through the tableau," a senior official said.
The mountain-warfare trained force has conducted a record 208 mountaineering expeditions over the years as part of its skill training.
The ITBP, under the command of the Union home ministry, is deployed from the Karakarom Pass in Jammu and Kashmir to Jechap La in Arunachal Pradesh to guard the 3,488-km long Line of Actual Control (LAC) across five states. Its border posts are located at altitudes ranging from 3,000-19,000 feet.