J-K police file FIR against army for tying man to a jeep as human shield
May 03, 2017 07:36 AM IST
An FIR has been registered against the Indian army for using a civilian as a human shield strapped to a jeep. Police said the FIR was filed on April 13, three days after a video of the incident surfaced on social media.
The Jammu and Kashmir police filed an FIR against the Indian Army for tying a man to a jeep as a human shield, the video of which sparked outrage in the Valley after it was shared few days ago.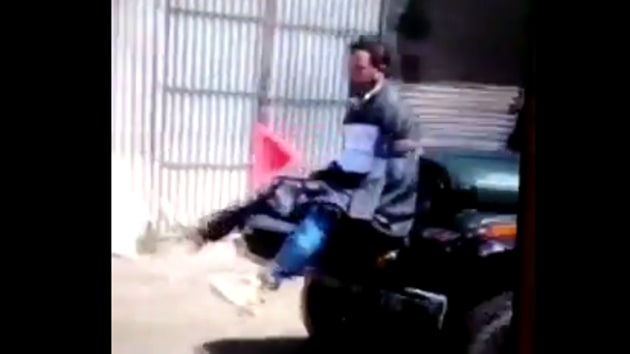 Police said it registered the first information report (FIR) in the Beerwa police station in Budgam district, the area where the video was believed to have been shot on April 9 when bypolls were held for Srinagar's parliamentary seat.
Confirming the same, deputy inspector general of police for central Kashmir, Ghulam Hassan Bhat told Hindustan Times that the FIR was registered on April 13.
Chief minister Mehbooba Mufti wrote on her official Facebook page, "In the 'human shield' video case FIR No 38/17 U/S 342/149/506&367 RPC has been registered in Police Station Beerwah on 13/4/17 . Investigation is being conducted by SDPO Magam.
We shall ensure that investigations are taken to a logical conclusion so that action is taken."
Local news agency KNS reported that the investigation by police was conducted against army's 53 Rashtriya Rifles unit.
The man strapped to the jeep in the video was identified as Farooq Ahmad Dar, a 26-year-old who had spent that morning queuing up outside a polling booth in Arizal's Chill Bras area, defying a separatist boycott call that contributed to the lowest turnout in almost three decades.
Dar claimed he was pulled from his motorcycle by army personnel, tied to the front of the vehicle and driven around from village to village for hours.
Following the outrage over the video, the army ordered an inquiry.
The development comes at a time of mounting bitterness between civilians in the Valley and security forces; eight people were killed and dozen others injured during clashes on polling day. On Saturday, a youngster was killed in Srinagar's Batmaloo suburb when he took a bullet to his head while security forces tried to disperse a group of stone-pelters.