Jharkhand lynching: How mob justice took three lives on a single night
Updated on May 22, 2017 05:25 PM IST
Mob lynches men in Jamshedpur, thrashes grandmother who tried to save them.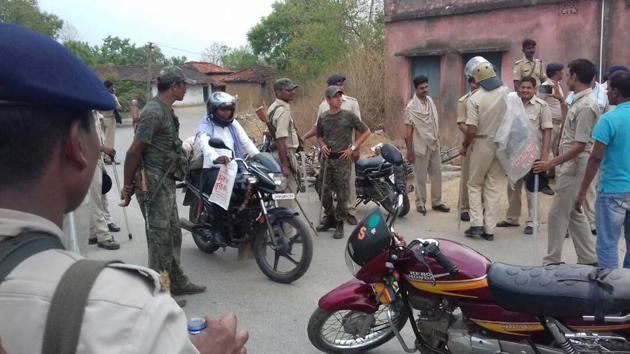 Hindustan Times, Jamshedpur |
B Vijay Murty
Till Thursday evening, the Vermas of Jamshedpur's Jugsalai locality was an extended happy family comprising three brothers, their middle aged parents and a grandmother.
By midnight, the number of brothers came down to one. Uttam Kumar Verma, the eldest of the three brothers survives. His two younger brothers, Vikas and Gautam Verma along with their family friend, Gangesh Gupta were lynched by a mob of frenzy tribals in a tribal locality on suspicion of being child lifters.
Even Uttam was trapped and was being thrashed when a police van arrived and he managed to flee under the cover of darkness.
Strangely, the audacious villagers kept showering sticks and stones on the trio but the policemen failed to control the mob. By the time additional forces arrived led by the city SP, Prashant Anand, Vikas, Gautam and Gangesh were lying in a pool of blood breathing their last. The mob had also thrashed and injured the Verma brothers' grandmother, Ram Chandra Devi, who went there to rescue the 'children'.
Shocked to see the mutilated bodies of his two younger brothers and their friend, Gangesh, at the hospital, Uttam regretted his decision to escape leaving his brothers. "Around 8pm a police van came and for a moment the villagers ran helter-skelter. Finding no one near me, I ran for my life. Around midnight, when police took me to identify the deceased, I couldn't believe my eyes. They disfigured the bodies of three men who had their entire life ahead," said a wailing Uttam seated by his grandmother undergoing treatment.
He said his brothers recently started a company that offered building toilets at reasonable rates. To promote their business, they visited villages distributing pamphlets and putting up banners. On Thursday, Vikas and Gautam left for Nagadih, a tribal village four kilometers from their home, to put up banners when a group of tribals accosted them and asked for their identities.
They said they came to buy land in the village. In a couple of minutes, a thousand-odd mob reached the spot and took them hostage accusing them to be child lifters. They tied the brothers to a pole and thrashed them. The duo pleaded innocence. The mob then asked them to call their family to bring their identity cards. Gautam called elder brother Uttam and narrated their ordeal.
Uttam took family friend Gangesh and grandmother along with. As they reached the spot, the mob snatched their ID cards, phones and began thrashing them.
"Had the police reached on time and showed some courage, my brothers and friend would have been alive," he lamented.