Jharkhand: Mob sets Muslim man's houses ablaze over alleged cow slaughter on Eid
Published on Sep 02, 2017 08:09 PM IST
The Giridh district administration has deployed heavy security to prevent the situation from escalating further.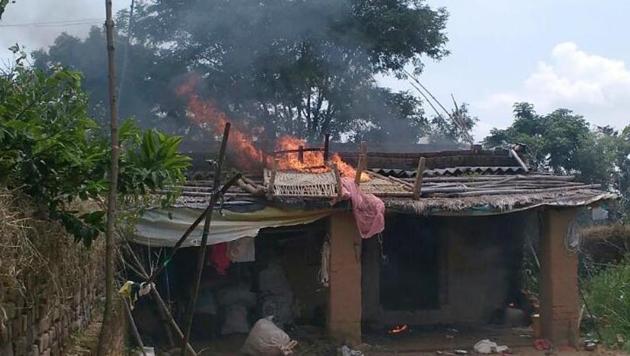 A mob set ablaze three houses belonging to a Muslim man who allegedly slaughtered cows on Eid ul-Adha in Jharkhand's Giridh district on Saturday, about 185 kilometers from capital Ranchi, police said.
Tension simmered in the twin villages of Naitand and Bariabad villages of the district on Saturday after Rahman Mian's houses in Naitand were gutted. Extra security forces were deployed at the spot soon after the incident to prevent the tension from snowballing into a conflagration. Four villagers sustained minor injuries in the clashes, police said.
Cops from the local police station doused the fire and sought reinforcement from the district police.
Rahman had allegedly slaughtered three cows in the morning near his residence for distribution among the local members of the Muslim community, police said.
Giridih superintendent of police Akhilesh B Variar told Hindustan Times that the police also recovered "heaps of bovine meat and heads of cows from Rahman's residence".
Rahman fled fearing an assault by the mob and is still absconding, police said.
"The situation is under control. However, our men are deployed in the area as a precautionary measure," Variar said.
Police have arrested six people so far. Variar and Giridih deputy commissioner Uma Shankar Singh are camping at the village.
Days before Eid, the BJP government in Jharkhand had issued an advertisement for the public highlighting the prohibition on slaughtering bovine animals in the state under various laws. It also warned offenders of dire legal consequences.
The Prevention of Cow Slaughter Act, introduced in 2005 by a previous BJP government, prohibits slaughter or sacrifice of cows and calves.
On June 27, a frenzied mob of nearly 1000 people comprising villagers and members of cow a vigilante group assaulted a Muslim dairy owner Usman Ansari, 55, and set his house ablaze after a headless carcass of a cow was found near his house. Ansari and his family were rescued by the police which had to fire in the air to disperse the armed mob.
Meanwhile, several members of the Muslim community offered Eid namaz wearing black badges in parts of Giridih to protest seizure of camels smuggled from Rajasthan for sacrifice during Eid.
The state government here had also prohibited camel sacrifice citing clauses under the Food Safety and Standards Act.