Journalist Shujaat Bukhari was killed because he tried to find a middle path: Jitendra Singh
Hindustan Times, New Delhi |
Rajesh Ahuja and Moushumi Das Gupta
Jun 19, 2018 09:35 AM IST
BJP minister Jitendra Singh talks about the Centre's decision to end Ramzan ceasefire in Jammu and Kashmir, the party's alliance with PDP and journalist Shujaat Bukhari's killing in the Valley. Edited excerpts from the interview.
Bharatiya Janata Party (BJP) MP from Udhampur and Union minister Jitendra Singh described the Centre's decision to end the pause in military operations in Jammu and Kashmir as a judicious one in an interview with Rajesh Ahuja and Moushumi Das Gupta, and said the immediate priority was to ensure that the upcoming Amaranth Yatra was peaceful. Excerpts: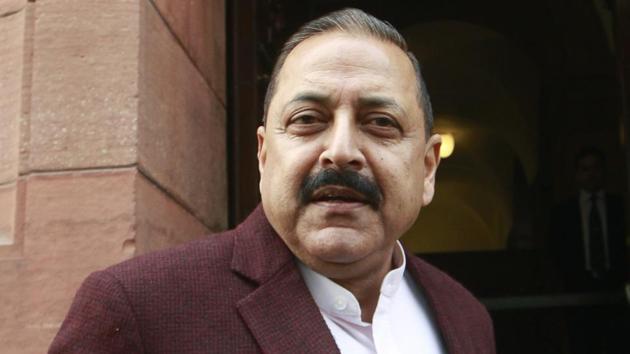 Why did the government not extend the ceasefire?
I am sure the home ministry has taken cognisance of all the reports and then taken a judicious decision but let's not forget that the immediate priority is to ensure that the upcoming Amarnath Yatra concludes peacefully. That is the responsibility of the government, and of course, of society. The Amarnath Yatra is not only a holy pilgrimage for Hindus, it is actually a symbol of India's composite culture. We have a huge stake in ensuring the success of this Yatra and ensuring that no mischief happens.
Seventeen years ago, when the ceasefire was last implemented, it was extended three times. Did the Vajpayee government show more staying power?
No, the context changed, the situation changed. The review of the security situation on sensitive issues is done on a day-to-day basis. What is best in the interest of the nation and best, keeping in mind the priorities and concerns of the people, has been done and has been done.
What were the gains from the ceasefire?
As a noble gesture, maybe the government sent out a message that if you are a pious Muslim, you are observing Roza, then as good human beings, we will cooperate with you. But if you yourself are not faithful to your religion, to the sanctity of the fast that you are observing, where it is mandatory that you don't think evil, you don't harm anybody. But if you don't observe that discipline, if you are not faithful to yourself, nothing prevents me from protecting myself. I think those who have not stuck to the sanctity of Ramzan stand fully exposed.
Did the killing of journalist Shujaat Bukhari and rifleman Aurangzeb hasten the government's decision?
I don't think I am in a position to respond to that because these are very sensitive issues that the home ministry decides depending on the inputs. But of course, it's a cumulative outcome of all the inputs received.
Is one month too short a period to look at positive or negative side of decision to have a ceasefire and then discontinue it?
We cannot lose sight of the fact that the entire disturbance is being sponsored by a hostile foreign power. If it was an indigenous movement, it would be different. But it is Pakistan. If you go back in history, you will see that the killing of journalists is not something new. It happened in the 90s, with the killing of Lassa Kaul of Doordarshan Kendra Srinagar, and it is going on.The moment you find a semblance of peace, Pakistan will generate something like that because it wants to keep the pot boiling.
If you go and study the statistics, you will realise that the common man of Kashmir has moved ahead. He has moved further ahead than his counterparts in other parts of the country. I was in Srinagar on June 7 when the NEET results came. We have as many as 50 children from terror-affected districts of Kashmir who have made it to the NEET qualification for MBBS. A few days earlier, there were an equal number of children who made it through JEE from Kashmir and its surrounding areas. This is the post-'90s generation. This is the third generation of Kashmiris. They don't want to ruin themselves like the earlier two generations. They are aware of the enormous new avenues that have been initiated in the last two-three years. They do not want to deprive themselves of this opportunity.
Are you disappointed that the Hurriyat did not respond favourably to the government offer of peace talks?
I have been watching the scene very closely for the last 30 years -- from the time when there was no militancy to the advent of militancy to now. The Hurriyat is nothing but a bunch of people who are trying to play politics by other means. Many of them are former mainstream politicians, they have contested elections, and they are drawing pensions as ex-legislators. When they did not succeed in the mainstream, they got into this. This is separatism by convenience, not conviction. They only talk of having a talk but they don't mean to talk. They would always say nobody is talking to us but, if you catch them head on, they don't wish to talk. The Hurriyat does not want to engage in talks because the moment it does that would be the end of its politics.
Who do you think is behind the killing of journalist Shujaat Bukhari?
I have no hesitation in saying that these are Pakistan-sponsored agencies. I'm very sad and hurt to hear what some of these apologists are saying. Some of them carrying intellectual pretensions and tending to be self-righteous intellectuals try to gain some easy publicity by sounding unorthodox. I think they've done more harm than good to J&K and India's cause.
Do you think the Shujaat's killing was timed to engineer the demise of ceasefire?
Any activist in Kashmir -- whether from the journalist fraternity or political fraternity -- if they tried to work out a middle path, they had to run through this fate. Shujaat tried to find a middle path, which also was done by some of the political activists like Mirwaiz Maulvi Farooq. It was also done by Abdul Ghani Lone. I am not talking in terms of stature but in terms of the strategy being followed by Pakistan -- whenever it finds some activists who try walk on some middle path, they (Pakistan) try to get him out of the scene.
Mehbooba Mufti had thrown her lot behind the ceasefire decision. What is your opinion on uncomfortable alliance between the BJP and the PDP? Some observers say that the BJP-PDP alliance is as bad as the 1987 alliance between Congress and National Conference, which curtailed political space in the Valley.
What has been decided by the Union home ministry is based on certain judicious deliberations. As far as the alliance is concerned, we have always to keep in mind that this alliance was dictated by the people of Jammu and Kashmir. It was not an alliance by choice of the BJP. We had asked for 44 seats in the assembly. The mandate was dictated.
They gave two parties an almost equal number and therefore democratic obligations made it binding on us that we come together on common points. In any coalition, you have some inherent contradictions and you agree to disagree on some points and then you move forward.