Karnataka govt tables amendment bill to legalise bull-racing sport 'Kambala'
The Karnataka assembly on Friday amended a law seeking to legalize Kambala, the traditional buffalo race held in the coastal districts of the southern state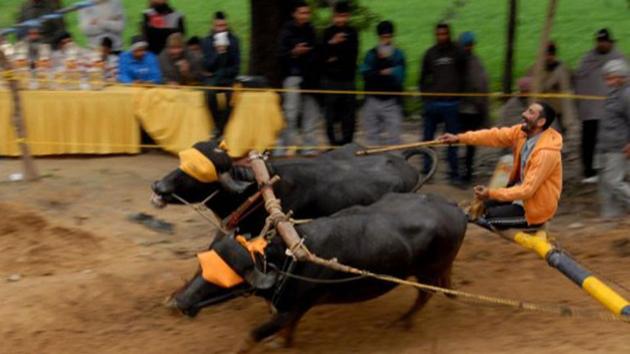 Updated on Feb 10, 2017 10:40 PM IST
The Karnataka government on Friday tabled an amendment bill in the assembly to legalise Kambala, the traditional buffalo race held in the coastal districts of the southern state.
The popular rural sport and the bullock cart races are kept outside the purview of the proposed law dealing with the prevention of cruelty to animals considering their "traditional nature."
The Karnataka high court had earlier banned the Kambala through an interim order in November. A petition seeking the ban had been filed by the People for Ethical Treatment of Animals (PETA).
The order sparked mass protests across the state, particularly after neighbouring Tamil Nadu last month passed a bill to allow Jallikattu, a traditional bull-taming sport, circumventing a court ban.
As the clamour for similar legislation grew in the state, Karnataka government tabled the Prevention of Cruelty to Animals (Karnataka Amendment) Bill, 2017.
The bill seeks to amend the Prevention of Cruelty to Animals Act, 1960, in its application to Karnataka.
According to the amendment bill, Kambala and "related bullock cart races" must be exempted from the law keeping in mind the traditional nature of the sports and also to protect native breeds of buffaloes.
The government seeks to amend section 22 of the Act, pertaining to restrictions on exhibition and training of performing animals and section 27 that deals with a list of exceptions, adding to it Kambala and bullock cart races.
S Rajashekhar, the counsel for pro- Kambala groups in the case, said once the legislative council passes the amendment bill it will go to the Centre for approval.
"This law does not need the President's assent as it's a state law," Rajashekhar said. He said once the bill is passed, the injunction against the sport would not stand.
"The next hearing in the case will be held either on Tuesday or Wednesday. We will move a memo calling for the case to be dismissed," Rajashekhar added.
Poorva Joshipura of PETA criticised the move. She said 65 non-cognizable offence complaints and one FIR were filed at just three Kambala events inspected by the Animal Welfare Board of India during 2014 and 2015.
Joshipura said the reports had highlighted different forms of cruelty inflicted on the animals.
"Many of the buffaloes observed frothed at the mouth, salivated heavily, and displayed increased respiration rates upon finishing the race, demonstrating that they are anatomically unfit for running," Joshipura added.
She said the "allowing of cruelty to animals is a black mark on our nation."
Close Story
Personalise your news feed. Follow trending topics