Bodies of LeT militant Junaid Matoo, two aides found after Arwani ops; J-K tense
LeT district commander Junaid Matoo, who made headlines by attacking a police van and killing three policemen last year, was among those slain.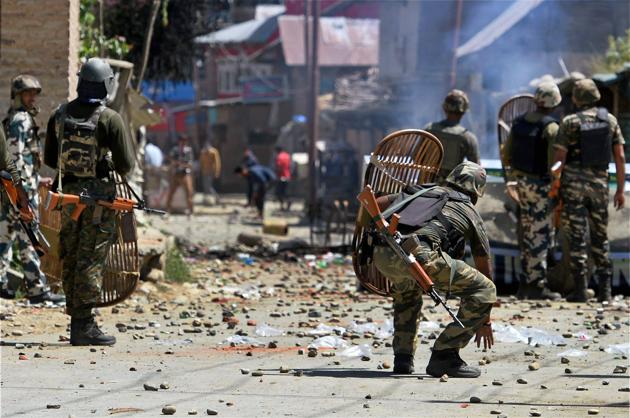 Updated on Jun 17, 2017 01:20 PM IST
The bodies of three Lashkar-e-Taiba (LeT) militants killed in an encounter with security forces were recovered from Arwani area of Bijbehara on Saturday.
LeT district commander Junaid Matoo, who made headlines by attacking a police van and killing three policemen last year, was among those slain. Acting on a tip-off, police and CRPF personnel had launched an operation to flush out militants from Makro Mohalla on Friday morning.
A shootout ensued, and several civilians were caught in the crossfire. Although they were rushed to the hospital, two succumbed to their injuries. The deceased were identified as Ehsan Ahmad, a teenager from Shamsipora village in Kulgam district, and 22-year-old Muhammad Ashraf.
Confirming the two deaths, DGP SP Vaid said: "Security forces have no choice but to retaliate when militants fire at them. Whosoever comes near the encounter site can be hit by bullets."
Police also confirmed that the three Lashkar militants, including Matoo, were killed in the operation.
Matoo was involved in a number of anti-establishment activities in the Valley, including the killing of a police constable at Bogund in Kulgam district on June 15. He had also masterminded an attack on a party of security personnel at Mirbazar, which culminated in the death of police officer Mehmood.
Besides, the LeT commander – who carried a bounty of Rs 10 lakh on his head – was responsible for killing two policemen near Anantnag bus stand last year.
The other two militants – Nasir Wani and Adil Mushtaq Mir – were new to militancy, having joined the terror group last year. Police also recovered arms and ammunition, including AK rifles and grenades, from the site.
Brains behind retaliatory attack identified
In an apparent retaliation to the Arwani encounter, as many as 12 militants ambushed a police party on the outskirts of Anantnag district later on Friday – killing six policemen. The victims were travelling in a police jeep on the Anantnag-Achabal road when the incident occurred. Police have identified LeT district commander (Anantnag) Bashir Ahmad Wani as the brains behind the attack.
A reward of Rs 10 lakh has been announced for anybody providing information on Wani and his fellow-militants.
This was the second major attack to be carried out on a police party over the last two months. Militants had attacked a police party at Phambai in South Kashmir on May 28, killing five policemen and two bank guards.
Restrictions imposed in Kashmir
Meanwhile, authorities imposed restrictions in Srinagar and other parts of Kashmir as separatists called for a shutdown on Saturday. Srinagar district magistrate Farooq Ahmad Lone said curfew was clamped in Rainawari, Khanyar, Nowhatta, MR Gunj and Safa Kadal areas to maintain law and order.
While trains running between Baramulla and Bannihal towns were halted, the Kashmir University postponed its examinations scheduled for Saturday. Commercial activities and public transport services were also suspended.
A clampdown on mobile Internet services is already in effect across the Valley, and cellphone services have been altogether scrapped in certain areas of South Kashmir.
New Hizbul video surfaces
A new video of Hizbul Mujahideen's new operational commander, Yasin Yatoo, had surfaced just hours before the policemen were attacked in Anantnag. He lauded Kashmiri civilians for their sustained protests against the government, and warned of more attacks on security forces in the days to come.
In a reference to former outfit head Zakir Musa, Yatoo dismissed reports of differences between militant outfits as misinformation planted by Indian agencies.
Close Story