Kashmiri man joins militants, he was 'victimised' under security law
May 16, 2017 11:37 AM IST
Zubair Ahmad Turray, who escaped from Keegam police station on May 1, says he was in jail for the last 4 years and was charged under the Jammu Kashmir Public Safety Act, 1978 that allows the state to detain a person without trial for at least 6 months.
A 23-year-old man from Shopian, who escaped from police custody earlier this month, has released a video saying he has joined the militant ranks and that "tyranny' and "illegal detention" led him to become an insurgent.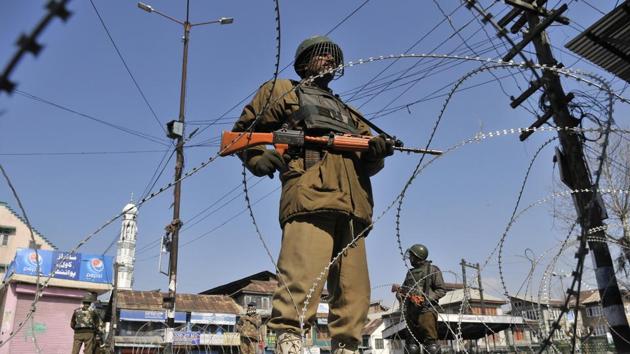 District police authorities confirmed Zubair Ahmad Turray escaped from Keegam police station in Shopian on May 1 but did not take any weapon with him. Residents of the town called for a shutdown for three consecutive days last week to protest his disappearance.
"We had information that he (Zubair) has joined militants after escaping from prison. It got confirmed by his video," director general of police, SP Vaid, said.
In the video, which surfaced on social media, Turray is seen in a military uniform with a cap and two rifles and two grenades can be seen on a table in front of him.
Turray begins his message with Quranic verses and says he is a "victimised" Kashmiri who escaped from a jail a few days earlier. He goes on to explain how "slavery" and the "imperialist forces" had led him to become a militant.
"My journey has been very painful… I had no other way," Turray says in the video.
He says he was in jail for the last four years and was charged under the controversial "PSA" 4 times. He was referring to the Jammu and Kashmir Public Safety Act (PSA), 1978 that allows the state to detain a person without trial for at least 6 months. Activists say it is 'draconian' and rights body Amnesty International has termed it a 'lawless law'.
Turray says that even though his last PSA case was quashed by the high court, he was placed under illegal detention for 3 months, following which he escaped.
Habeel Iqbal, a lawyer who is Turray's counsel in 3 cases currently in Shopian court, said in February a PSA order on Turray was quashed and he was told by the police to report to the counter-insurgency wing of the police in Srinagar. He reported to the wing after 2 days of being set free from the prison, only to be detained and handed over to Shopian Police.
"Senior Shopian Police officials had promised to let him free in a few days and the days kept on increasing. We did not file for a bail application because then there was the fear that the state might issue a fresh PSA order on him. Since February, Zubair was not produced before any magistrate and hence the custody was illegal," said Iqbal.
Iqbal added, "This is a common practice of the state in Kashmir to keep charging people whom they consider a threat under a cycle of PSAs – one after the earlier one is quashed. Hence Zubair was scared that he might be a victim of the same and end up being jailed forever."
Iqbal added Turray has 20 FIRs against him till now.
"If somebody is a chronic stone-pelter, what can we do? We had to arrest him," Vaid said reacting to the statements made by Turray regarding his continued illegal detention.
In the video, Turray also talks about the struggles of his father Bashir Ahmad Turray to get him released from jail as the state kept charging him under one offence or other. He also tells his father that he is fine and asks him not to worry.
Iqbal added that Bashir, a businessman dealing in textiles and a shop owner, holds the state responsible for forcing his son to pick up the gun and questions the "disappearance" of his son from custody.
"Zubair Ahmad Turray is a classic example of how the Indian state and its local stooges are pushing Kashmiri youth to the wall and leaving no place for them but to join armed resistance," Jammu Kashmir Liberation Front chief Yasin Malik said in a statement.
Sources close to Turray's family say that he was a stone-pelter many years ago and attained a cult status in the district even as he became ideologically motivated towards the separatist cause.
"Zubair was 10-12 years old when he was first arrested by the police and since then he has been continuously hounded by the police. He was, at the beginning, a part of protest demonstration in which protesters in some cases turned to stone-pelting. But the way he has been pressurised and pushed to the wall, that today he has joined militancy," prominent Srinagar-based rights activist Khurram Parvez said.
"In fact, Zubair says it clearly in the video that he was forced to pick up the gun and militancy was the last option. This is similar to what we have heard in Burhan Wani's case also. Many youths who were part of 2008 and 2010 protests picked up the gun after facing tremendous brutalisation at the hands of the state," Parvez added.
Wani, a popular Hizbul Mujahideen militant commander who was killed in an encounter last year, is said to have taken to militancy after security forces allegedly thrashed him and his brother, Khalid in 2010, without any provocation.