Kerala nun rape case: Protesting nuns say Church officials protecting bishop accused of rape
Updated on Sep 15, 2018 10:20 AM IST
Agitating nuns allege that church authorities have tried to lure them with tall promises to back off.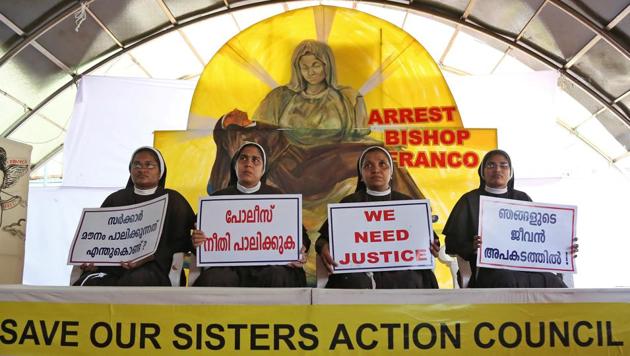 Catholic nuns in Kerala who are demanding the arrest of Bishop Franco Mullakal of Jalandhar for allegedly raping a nun multiple times, have accused the church officials of trying to scuttle their agitation with a combination of promises and intimidation.
The agitation by the nuns in Kochi entered its eight day on Saturday but the powerful church remains unmoved.
Church authorities say it is a movement against believers and have issued a gag order to different denominations to watch out for those nuns and priests who sympathise with agitating ones.
The protesters insist it is a cry for justice and not against the church. This is the first time that nuns are on warpath in the state that contributed three saints to Christianity, two of them were nuns.
"We turned to many superiors for help but they all ignored our repeated pleas. Wedded to Jesus, we came to nunnery on our own volitions. What do we do if basic tenets are stumped? As a last resort we were forced to hit the streets," said Sister Anupama, close to the victim who has accused Bishop Mullakal of rape.
Agitating nuns allege that church authorities have tried to lure them with tall promises to back off. When that failed, they resorted to intimidation and foisted false cases on the protestors, Sister Anupama said.
"We are ready to die if it helps bring some relief to nuns whose lives are confined to four walls. We will remain nuns our rest of life even if they defrock us," she said adding the victim had narrated her plight in a 7-page letter she sent to the Ambassador of Pope.
Once the victim approached a higher church authority she was advised to initiate a dialogue with the bishop in questions and sort out "personal problems" amicably, she said. "Shall we again allow her to go with the accused and be a party to his wrong doings?" she asked. On another occasion, she said, a prominent priest had offered them 10-acre land and a plum position if the victim withdraws her complaint.
Despite rising support for the nuns' demand, the church apparently has failed to see the writing on the wall and insists it is an attack against Christianity itself. On Thursday, the Catholic Bishop Conference of Kerala had issued a statement saying nuns' stir had crossed all limits. "It is being organized by some people with vested interests by keeping five nuns on the forefront," it said adding it was led by non-believers.
But Sister Anupama said more than church what really shocked them is "indifferent attitude" of the police. "We expected nothing more from church authorities but police let down us badly. If the accused was an ordinary man will the police give him so much of time? Despite a big outcry I don't know why they dread to touch the accused. It is nothing but his money and muscle power," she said.
Former Kerala high court judge Kamal Pasha who had visited the agitating nuns at the start of their agitation, said the police inaction created an illusion that the accused was beyond the law of the land.
"It seems police have given a long rope to the accused. Even notice was given to the Bishop under section 41 A, not 41 B, where an arrest is not necessary and he was given one-week to appear before the investigating agency. If people think there is collusion between rulers, police and accused they can't be blamed," he said.
However, the police insist there were contradictions in statements of both the accused and complainant and they needed more time. The victim had filed her complaint in June.
"Since iron walls are guarding monasteries little is known outside about the life of the clergy. Once you are young and kicking it is fine but if you refuse to oblige superiors you will fall from grace in no time," said another nun.
Many eyebrows were raised last year when ten nuns of St Antony's convent in Thiruvananthapuram approached the city corporation for old-age monthly pension of ₹1000. Later the church had forced them to withdraw their applications.
"Nobody is there to listen to us. We are like candles that melt slowly," said Sister Anupama.
Personalise your news feed. Follow trending topics