Kupwara: 1 dead as army opens fire on protesters demanding militants' bodies
Hindustan Times, Srinagar |
Toufiq Rashid and Ashiq Hussain
May 18, 2017 07:57 AM IST
An Indian Army captain and two soldiers were killed on Thursday when militants carried out a fidayeen attack on an army camp in Kupwara in north Kashmir.
Militants stormed an army garrison in north Kashmir's Kupwara on Thursday, killing an army officer and two soldiers before two of them were gunned down by a lone gunner.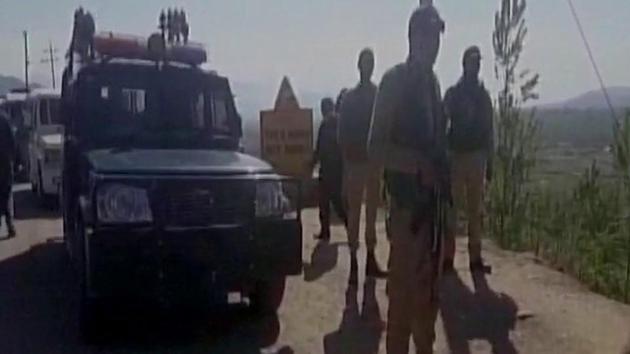 Shortly after the attack, a civilian was shot dead when forces opened fire on a crowd of protesters amassed outside the camp demanding the bodies of the attackers be handed over.
Mohammad Yusuf, 50, died and four others were injured in the army firing.
Five soldiers were injured in the morning attack and have been shifted to a hospital in Srinagar.
The deceased soldiers have been identified as officer as Captain Ayush Yadav, Nayak BV Ramana and Subedar Bhoop Singh Gujjar .
The attacks, and the following demonstration in support of the attackers, underscore the volatility in the Valley where street protests have flared and a recent by-election saw one of the worst turnouts the region has seen.
According to officials, militants attacked the installation early in the morning and opened fire indiscriminately. Gunner Rishi Kumar, officials said, engaged the gunmen and killed two of them before running out of ammunition.
"He moved out of his bunker and tried to pick up the weapon of the slain terrorists to engage the third. The third terrorist fired," an army spokesperson said.
Col Saurab Joshi told reporters that two bodies have been found, and combing operations went on for hours after the roughly 30-minute gunfight.
Tension is running high across the Valley since April 9, when eight people — including seven students — were killed by police and paramilitary forces during the bypoll to the Srinagar Lok Sabha constituency.
Earlier this week, Jammu and Kashmir chief minister Mehbooba Mufti told reporters that Prime Minister Narendra Modi was "amenable" to talks with all stakeholders to restore peace in the region but that no dialogue was possible in the face of bullets and stones.
The incident is also likely to further strain India's relations with Pakistan, whom New Delhi accuses of sheltering and supporting militant outfits targeting security personnel in Kashmir.
The strikes followed a string of attacks on defence installions and army camps including one at Uri which had left 19 Indian soldiers dead in September last year.
Weeks later, seven soldiers, including two majors, were killed when militants dressed as policemen stormed another military camp in Jammu and Kashmir's Nagrota.
On Wednesday, the Jammu and Kashmir government ordered internet service providers to block Facebook, Twitter and 20 other social media sites and online applications for one month "in the interest of maintenance of public order".
The move came after after several videos and photos depicting alleged abuses of Kashmiris by Indian security forces sparked outrage and fuelled protests.
Students across Kashmir have been rallying this month at anti-India demonstrations, facing off against heavily armed riot police and paramilitary soldiers.
(With agency inputs)