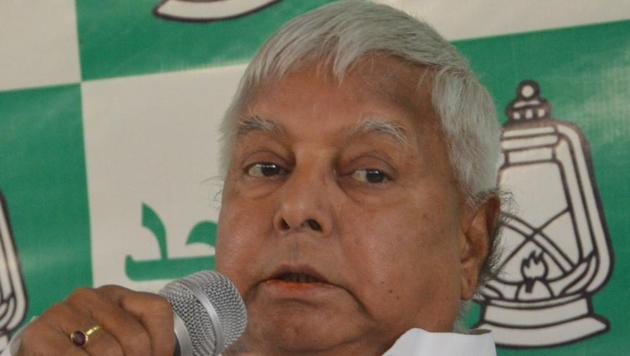 Lalu admits to 'family interest' in Patna mall, asks 'what's wrong in that?'
RJD president Lalu Prasad, on Sunday, admitted his family owned the land on which a mall was being built in Patna, as had been claimed by BJP leader Sushil Modi, but denied any financial impropriety.
PUBLISHED ON APR 09, 2017 08:01 PM IST
RJD chief Lalu Prasad, on Sunday, brushed aside as ' false and malicious' a volley of allegations from BJP leader Sushil Modi, about irregularities in land deal for an upcoming mall in Patna.
But he did admit that his family had secured the ownership of the land on which the mall was being built, by taking over the company that previously held the property. This was done by floating a limited liability partnership (LLP) firm renamed as LARA, acronym for Lalu and Rabri.
Prasad also admitted that his wife, former chief minister Rabri Devi, and his two sons, Bihar deputy CM Tejashwi Prasad Yadav and Forest minister Tej Pratap Yadav, were directors in the firm. The two became 'partners' in the firm when their mother transferred her shares to them 'shares out of love'.
' I contradict the charge that my daughters, Ragini and Chanda, are also directors in the firm," he said.
Prasad said the land had been allotted to Meridian Construction for development of the mall on profit/space sharing model, as per an agreement.
"My family, owning the company that holds the land, has given the property to Meridian Construction, which will bear the construction cost of the mall, as per an agreement. The allegation that my family bought the land at a throwaway price is baseless," he said.
The RJD chief, who was addressing a press conference, tried to give point by point rebuttal of charges levelled by BJP leader Modi.
Prasad said the land, at Saguna Mor in western Patna and measuring two acres, came in possession of his wife Rabri Devi in 2005, in lieu of sale of her shares in Delight Marketing, owned by RJD leader and former union minister Prem Gupta, at face value of Rs 100 per share, as per Income Tax rules.
The RJD chief got agitated when asked about Modi's charge that he had amassed wealth despite professing to being a champion of social justice.
"Is it wrong to do business? Why can't my children and family engage in commercial ventures," Prasad asked. He said the value of the land has appreciated considerably over the years owing to the progressive hike in circle rates and escalation in market price.
Earlier, BJP leader Modi had also alleged that a tender of Rs 90 lakh had been awarded by the Patna zoo authorities to the promoters of the upcoming mall, for supplying soil, owing to alleged pressure fromPrasad's elder son Tej Pratap Yadav, who is also Bihar's forest minister.
In this context, Prasad said: "Modi is no longer talking about this as he knows this is false. The soil was never given to Patna zoo but sent to Phulwari sharif and Danapur graveyards".
The RJD chief also rejected Modi's allegation that Prasad's family had got the land at Saguna Mor in 2005 in lieu of by awarding to businessmen Kochars contract for two railway Yatri Niwas hotels, at Puri and Ranchi, when Prasad was railway minister in the UPA-1 government at the centre (2004-09).
"Modi has a habit of cooking up cock and bull stories. The land was purchased by Delight marketing in 2005 whereas Kochars got the contract through their highest bidding, in December 2006, that is, much later", the RJD chief said.
Prem Gupta, a sitting RJD MP, said his company was a family run firm since 1981 and had acquired the said land in 2005 by purchasing it from businessmen Kochars, after land ceiling clearance. Thereafter, he transferred the firm through sale of shares to Rabri Devi.
But Gupta did not say at what price the deal was clinched.
Earlier, BJP's Modi had alleged that the land transfer deal was done by floating a shell company at a total price of Rs 4 lakh, whereas the estimated value of the property was around Rs 200 crore and of the upcoming mall, Rs 750 crore .
The RJD chief rebutted Modi's allegation that the company's take over was not mentioned in IT returns of the parties concerned.
Immediately after the RJD president 's press meet, Modi said all the points he had raised were vindicated, as Prasad had "admitted that by making an investment of around Rs four lakh, his family had come to own the property worth Rs 500 crore".
Close