Highlights: EC says EVMs can't be tampered with, opens challenge for political parties from June 3
The Election Commission's demonstration comes after several opposition parties - chiefly the Aam Aadmi Party (AAP) and the Bahujan Samaj Party (BSP) - alleged that EVMs were tampered with in the February-March assembly elections in five states and the just-concluded civic polls in Delhi.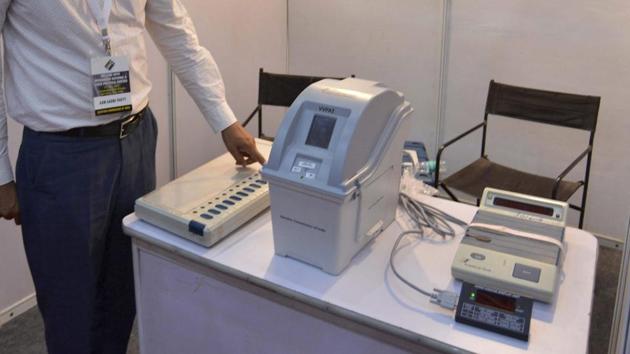 Updated on May 20, 2017 11:34 PM IST
Hindustan Times, New Delhi | By HT Correspondent
The Election Commission held a demonstration on the working of electronic voting machines (EVMs) on Saturday amid allegations by opposition parties that the devices are vulnerable to hacking and tampering.
Several opposition parties -- chiefly the Arvind Kejriwal-led Aam Aadmi Party (AAP) and Mayawati's Bahujan Samaj Party (BSP) -- have alleged that the EVMs were tampered with in the February-March assembly elections in 5 states and the just concluded civic polls in Delhi.
Opposition parties, including the Congress and the Trinamool Congress, also petitioned the poll panel as well as President Pranab Mukherjee about the vulnerability of the EVMs.
The allegations have been vehemently denied by the poll panel.
Here are the Live updates:
4:58pm: EVMs with VVPATs will be used in elections in Gujarat and Himachal this year, says CEC
4:52pm: Our EVMs have been sent to Bhutan, Nepal and Namibia, many countries are showing interest in our machines: Zaidi
4:42pm: Our polling process is completely transparent, so is the EC, we take suggestions of parties into account: CEC Zaidi
4:30pm: Hope with the introduction of 100% VVPATs, this issue will rest conclusively, says CEC when asked what if parties still raise this issue after the challenge in the next elections.
4:26pm: VVPAT wit h EVM will restore trust and faith of people, also its a law now as following SC direction, so EC has to use it: CEC on why introduce VVPATs if EC is so sure of EVMs
4:24pm: Hacking is not a prestige or adverserial issue, we want to learn from it and further strengthen our processes, says CEC
4:20pm: Won't like to comment on what happened in Delhi assembly; our machines are tamper-proof, if you change the internal circuit of our machines,then they aren't our machines: Zaidi on question about EVM hacking demonstration in the assembly
4:17pm: Inspection of machines will be a visual inspection: EC
4:15pm: Each party can nominate up to 3 persons for the challenge, they should be Indians: Zaidi
4:13pm: Machines will be allowed to be opened for visual inspection, says CEC
4:09pm: The challenge is likely to remain open for five days: CEC
4:08pm: ECI through this challenge will restore & enhance, faith & confidence of voters in EVM voting system: CEC
4:06pm: Parties to be allotted 4hr slots during which they'll be granted access to EVMs, VVPATs and ballot units for EVM challenge: CEC Zaidi
3:59pm: Challenge open to national & state parties,can nominate 3 authorized persons, will need to confirm their interest by 5 pm on 26 May: CEC
3:58pm: National and state parties that participated in the elections in five states can participate in this challenge.
3: 52pm: During our meeting with political parties, we had assured them of organising an open challenge; the ECI now propose open this challenge on June 3 for the parties: CEC
3:50pm: EVMs are not hackable as these, are stand alone machines and not connected to internet and/or any other network:CEC
3:46pm: Replacement of internal circuit of #EVMs is not possible. Our EVMs have strong technological features and are tamper-proof: EC.
3: 45pm: Neither defective machines nor look-alike EVMs can get reinducted into the polling process, says Zaidi
3: 43pm: It will also be a matter of pride that India will become first country to deploy 100% VVPATs or paper trail in world: Zaidi
3:36pm: Zaidi says another misinformation is that EC is using foreign-made EVMs. All machines are made in India and their software codes are written and approved by leading technocrats.
"Changing the existing programme and introducing a new one is detectable and they make our machines inoperable."
3:33pm: EVMs can't be physically tampered with, claims CEC Zaidi.
3:31pm: EC rebuts the claim that a Trojan horse can be used for hacking. "A Trojan horse can't be inserted into EVMs."
Once a key is pressed on a ballot unit, the data is transferred to the control unit under a code. After pressing once, other clicks won't be accepted. To activate a Trojan horse, hackers need a wireless received and the EVM doesn't have any possibility, says Zaidi.
3:30pm: Our manufacturers are not aware of the candidates' key numbers, that's why manipulation at the stage of manufacturing isn't possible.
3:25pm:The Commission will like to tell that EVMs are not related to any other machines or the internet. Therefore, it can't be tampered with or hacked by any devices.
3:23pm: Certain complaints generated a wrong impression of the ECI. The Election Commission is not responsible for local body elections, state election bodies are: Zaidi
Watch the conference Live
3:33pm: The Commission believes in total transparency and it will receive suggestions to improve. "We also maintain equi-distance from all parties." Zaidi's statement comes in the wake of AAP accusing the poll panel of favouring the Bharatiya Janata Party.
3:21pm: The CEC lists out all measures that the poll panel had promised to make at its press conference earlier in May, including the use of VVPATs in all elections. "India will be the first country to have 100% use of VVPATs."
3:20pm: The introduction of the EVM was a positive electoral reform. Some doubts have been raised on their functioning.
"The Commission has duly acknowledged the claims." However, the Commissioned hasn't received any substantial reasons or material information to make the claim credible, says EC.
3:15pm: The chief election commissioner Nasim Zaidi addresses the press conference. He says the ECI is globally acknowledged for conducting fair elections and adopting technological developments.
3:05pm: EC plays a five-minute film to explain the working of an EVM. The film explains how the EVM is secured at multiple levels to safeguard it from hackers.
3pm: The poll panel begins its press conference on EVM hacking row.
2pm: Hours before the Election Commission is scheduled to hold a demonstration on the working of paper trail enabled voting machines, AAP leader Sanjay Singh claims that the EC was delaying announcing the hackathon dates. He also claimed that the poll panel was listening to only one party.
Close Story