Aarushi-Hemraj murder case LIVE: Allahabad HC acquits Rajesh and Nupur Talwar, couple likely to be released on Friday
Hindustan Times, Allahabad/Ghaziabad |
Jitendra Sarin and Peeyush Khandelwal
Oct 12, 2017 05:02 PM IST
Rajesh and Nupur Talwar were awarded life sentence by a special CBI court in Ghaziabad in 2013 for killing their daughter Aarushi and domestic help Hemraj.
The Allahabad high court acquitted Rajesh and Nupur Talwar on Thursday of killing their daughter Aarushi and domestic help Hemraj in 2008.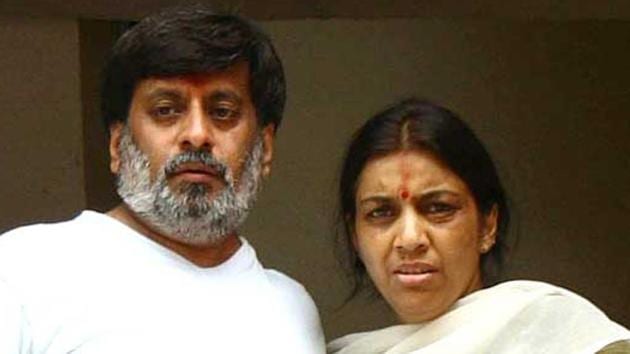 The couple were awarded life sentence by a special CBI court in Ghaziabad on November 26, 2013, a day after their conviction. They had later appealed the decision.
Here are live updates on the verdict:
4.55pm: DR Maurya, jail superintendent, said Rajesh Talwar hugged him and burst into tears. "He said justice has been delivered," Maurya said .
4.40pm: Aarushi's aunt Vandana Talwar said after the HC judgment: "This nine-year journey was a struggle. It was emotionally draining... We are tired. We to thank the court for correcting the injustice. The relief by the Allahabad High court ended the injustice meted out to Rajesh and Nupur. We are happy we can now move forward. At this point, we want to thank all those who did not even know us but supported us - emotionally, physically. Some even supported us financially."
4.35pm: "We are grateful to everyone... I have seen them (Rajesh and Nupur) suffer," says Aarushi's grandfather BG Chitnis.
4.20pm: Aarushi's aunt Vandana Talwar to brief media shortly.
4.13pm: Dilip Kumar, defence counsel who represented the Talwar couple, says: "We are satisfied with the judgment and greatly relieved. We believe complete justice has been done as the court has set aside the trial court's order for lack of sufficient evidence."
3.37pm: "Rajesh and Nupur Talwar are happy, and said they have got justice," DR Maurya, jailor, Dasna Jail, tells ANI.
3.28pm: Rajesh Talwar broke down after the verdict and hugged jail officials. His wife, Nupur Talwar, was praying when the verdict was announced.
3.27pm: Dasna jail superintendent DR Maurya says the Talwar couple's release is likely on Friday after they receive the court judgment through official channels.
3.22pm: "We are waiting for the copy of the judgment. We will decide our next course of action after studying it," says CBI spokesperson.
3.15pm: The Allahabad HC cited various shortcomings in the lower court's judgment while giving its verdict. The court ordered their immediate release. Both judges wrote
3.10pm: Aarushi's grandfather tells CNN-News18: "We've always known Talwars were not guilty... Thankful for positive verdict. Don't want to hold anyone responsible at present."
3.05pm: The Allahabad HC says the evidence against Aarushi's parents was circumstantial.
3.02pm: The CBI failed to prove beyond reasonable doubt that the Talwars killed Aarushi and Hemraj, TV reports quote the HC bench as saying.
2.56pm: Allahabad high court says Rajesh and Nupur Talwar are not guilty of killing their daughter Aarushi and domestic help Hemraj.
2.53pm: Judges begin pronouncing their order: TV reports.
2.45pm: Judgment copy being signed, say TV reports.
2.40pm: Allahabad HC division bench judges enter courtroom: TV reports
2.15pm: Allahabad HC judges to announce Aarushi verdict around 2.45pm. The HC had on October 7 reserved its judgment on the appeal by the Talwars.
*Fourteen-year-old Aarushi was found dead inside her room in the Talwars' Noida residence with her throat slit in May 2008. The needle of suspicion had initially moved towards 45- year-old Hemraj, who had gone missing but his body was recovered from the terrace of the house two days later.