Living in fear: Dalits still at receiving end of caste atrocities in Uttar Pradesh
Jan 31, 2017 08:46 AM IST
Dalits remain the most oppressed section of the Indian community with poll-bound Uttar Pradesh topping the list of states with atrocities against them.
For the Dalit Katheria family of the nondescript Daulatpur village in Mainpuri district of western Uttar Pradesh, the New Year turned out to be traumatic.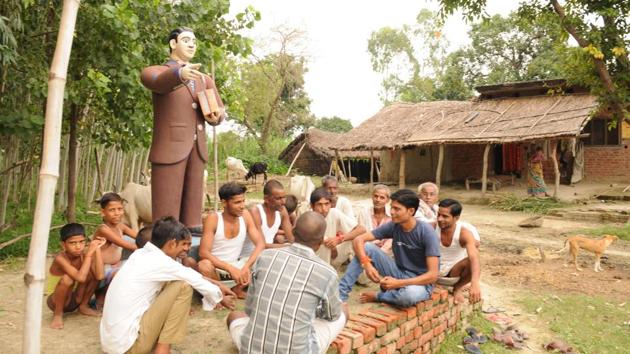 Hari Om Katheria, 35, his wife Meera and brother Shyam Sunder were thrashed by Chhotey Lal, an upper caste Thakur, for not greeting him with a 'Ram Ram'.
On January 15, Hari Om was working in his field when Chhotey Lal passed by. Chhotey Lal was infuriated as Hari Om did not wish him 'Ram Ram' and thrashed the Dalit farmer with his slippers.
When Hari Om's wife Meera and brother Shyam Sunder intervened, Chhotey Lal thrashed and abused them too.
Later that night, Chhotey Lal and his henchmen went to Hari Om's house and after thrashing the family again, set the poor farmer's house on fire.
The incident was reported by some sections of the media but was largely washed away amid the high-profile family feud in the Samajwadi Party.
Chhotey lal was arrested and sent to jail. However, he is now out on bail and the case is in the trial stage.
Atrocities against Dalits have continued despite Constitutional safeguards that came into force 68 years ago.
"The State shall promote with special care the educational and economic interests of the weaker section of the people and in particular, of the Scheduled Castes and the Scheduled Tribes, and shall protect them from social injustice and all forms of exploitation" says Article 46 of the Indian Constitution.
Uttar Pradesh's Hall of Shame
But Dalits remain the most oppressed section of the Indian community with poll-bound Uttar Pradesh topping the list of states with atrocities against them. According to the National Crime Records Bureau (NCRB) 2015 statistics, Uttar Pradesh recorded the highest number of 8,358 incidents of atrocities against Dalits.
The hacking of a Dalit couple in Mainpuri district on July 28 last year had brought UP into national focus all for wrong reasons. Ashok Mishra, an upper caste grocery owner, had hacked Bharat Nat, 45, and his wife Mamta, 40, after they failed to pay a debt of Rs 15. Four minor children of the deceased couple continue to be at the mercy of neighbours.
This was just few days after the infamous Una incident in Gujarat, where four Dalits were flogged in public for skinning a dead cow. However, there was no Gujarat like-uprising of Dalits in Uttar Pradesh after the murder of the couple. Mishra was arrested and sent to jail and is currently facing trial.
Despite the Centre's decision to amend the SC and ST (Prevention of Atrocities) Act in December 2015 to make the law more stringent, there has been no respite in cases of atrocities on Dalits in UP.
Prof Rajesh Mishra, former head of department, Sociology, Lucknow University, says: "Had BSP chief Mayawati retained her Dalit ideology, anti-feudal and anti-Brahmin stance instead of politically re-structuring the party to gain power, the situation would have been different in UP. Cases of atrocities on Dalits would have definitely come down."
UP has been awash with incidents where Dalits have thrashed and even killed by upper caste men for no reason.
In February last year, Virendra Kumar Mishra, a brick kiln owner and his staff in Dabauli village in Unnao district, barely 70 kms from the state capital thrashed a minor Dalit boy, tonsured his head and paraded him with a garland of slippers. Mishra wanted to coerce the boy's father to sell his land adjacent to the brick kiln to him.
Later, Virendra Kumar Mishra was arrested and sent to jail. However, he is out on bail and the case is under trial stage in the sessions court
When it comes to atrocities on Dalits, it is almost always a familiar sequence of event across different places in UP.
Dependence on upper castes
The fate of Dalits in India's most populous state remains the same irrespective of the political dispensation. Even the presence of Bahujan Samaj Party, whose supremo Mayawati advocates the cause of Dalits and has been chief minister of UP four times, has not been able to make any difference in their lives.
During Mayawati's fourth term from May 2007 till March 2012 UP topped the list of states with atrocities against Dalits. In each of those five years, over 7100 cases of violations were recorded.
Former IPS officer of UP cadre, SR Darapuri, who fights for Dalits' rights, has better explanation for unabated atrocities against them despite stringent laws and four-time BSP regime in the state.
"Crime against Dalits is not simply a law and order problem. It is a social issue which can only be tackled by empowering Dalits who are both socially and economically backward," said Darapuri.
"Dalits have no land holding and are dependent on upper castes for their livelihood. This overdependence of Dalits on the upper caste makes them vulnerable to exploitation and atrocities," he added.
The incident in Gaghura village in Sambhal district in western Uttar Pradesh on August 10 last year testifies that not only upper caste but OBCs also commit atrocities on Dalits in Uttar Pradesh.
Sudha Kumari, a 13-year old Dalit girl, had gone to the village outskirts to collect fodder. When she felt thirsty, she went to the village temple to drink water from the tube well at the temple's premises.
Puran Singh Kashyap, the temple priest, an OBC, and his assistant Natthu Singh, not only prevented the girl from drinking water but also abused her with casteist remarks. The girl narrated the incident to her father Charan Singh. When he objected, the priest and his assistant attacked the father-daughter duo with a trident. No action was taken against the priest.
BSP regime no different
"Attacks on Dalits have increased manifold under the Samajwadi Party government," BSP chief Mayawati has often issued this statement in the last three years.
But the BSP's thrust for the 2017 assembly elections is law and order centric and the party has refrained from using any Dalit-centric slogan.
"Betion ko muskurane do, behenji ko aaney do, nirdosh ko na aasu bahane do, behenji ko aaney do and gaon gaon ko shaher bananey do, behenji ko aane do," promising good law and order and development.
The Dalit dilemma largely reflects India's economic and social inequality that continues to take a toll on the less privileged..