With stiff target for building toilets under Swachh Bharat Abhiyan, states are flouting citizens' rights
With the target for making India open defecation free (ODF) by 2019 under the Swachh Bharat Mission-Gramin (SBM-G) programme, states are tripping over themselves to meet the deadline, even at the cost of violating citizens' right to food or privacy.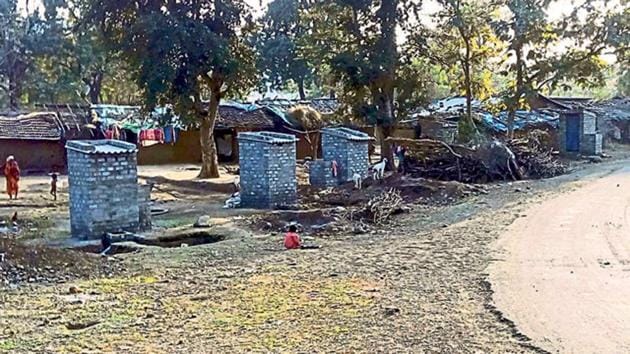 Updated on Apr 03, 2017 01:39 PM IST
For people in rural India, defecating in the open is no more a "pleasure activity".
These days, it is fraught with challenges: One could find the details of his morning ritual narrated like a cricket match commentary.
Or people could be denied ration and government documents for failing to build a toilet at home.
With the target for making India open defecation free (ODF) by 2019 under the Swachh Bharat Mission-Gramin (SBM-G) programme, states are tripping over themselves to meet the deadline, even at the cost of violating citizens' right to food or privacy.
This mad rush to build toilets and end open defecation is also putting the long-term sustainability of the Centre's flagship programme at peril, allege activists.
"In Indore, temple loudspeakers were used to narrate a commentary when someone went out to defecate in the open. Kids were asked to whistle … even photographs of people defecating in the open being interrupted by strangers offering flowers did rounds on social media," said Nikhil Srivastav, research and policy manager, Research Institute for Compassionate Economics (R.I.C.E).
In Rajasthan's Ajmer district, the administration has formed citizens' groups to blow whistles if they spot anyone defecating in the open.
According to a local Hindi daily, Sawai Madhopur collector KC Verma has directed ration shops to stop giving people grains if they don't build toilets.
"This flouts the National Food Security Act, 2013," said Dr Indira Khurana, a water and sanitation expert. However, when HT contacted Verma, he said he was misquoted in the report.
In Maharashtra's Solapur, the administration has resorted to public shaming to curb open defecation.
Those failing to use a toilet would find their name on a list in the town square or a local paper. Repeat offenders would find a musical band chasing them home or could be locked up for two hours by the police.
Chhattisgarh's Balod district, however, takes the cake: In Kapasi village, which was declared the first ODF village in Balod, CCTVs have been installed to stop people from open defecation.
In South Sikkim, people are denied government documents including OBC/ death/birth certificates, if they don't build toilets.
"We put two types of pressure— one positive and the other negative. Positive pressure was put through campaigns and social messaging. Negative pressure was applied by restricting and denying government benefits to those who haven't constructed toilets or haven't given up ODF," Rajkumar Yadav, district collector, South Sikkim, told HT.
Last week, a 70-year old man in Tuticorin, filed a case in the Madras High Court, stating that his village has denied work under the rural employment guarantee scheme because he failed to build a toilet. "The district official's action violates Article 21 (right to life) of the Constitution," he said in his petition.
"While threatening citizens may enable officials to participate in the ODF race, ODF will only be achieved and sustained when people demand facilities," activists told HT.
"Pressure has to be put on people to end socially deviant behaviour. But before that happens, two things have to be done: One, there are enough toilets and second, the community is on board," said Meeta Rajiv Lochan, former director, municipal administration, Maharashtra.
One of the reasons why users are not demanding toilets is that the message about the importance of latrine use is not reaching people. "The SBM allocates only 3% of the total budget to Information, Education and Communication (IEC). Worse, that money is not being spent," explained Diane Coffey, executive director, R.I.C.E.
R.I.C.E. has been conducting a phone survey, which applies similar techniques used by Gallup poll, in Delhi and Uttar Pradesh, on whether the sanitation message is reaching people. "In 2016, 2,708 people answered questions. One question asked respondents whether they have heard of the SBM: 62% of people in Delhi claimed to have heard of the SBM, similar to 63% of urban UP. The figure was 45% in rural UP," Coffey told HT.
To people who said they had heard of the SBM, R.I.C.E. asked: What do you think the SBM does? Very few people included among their responses the idea that the SBM had anything to do with toilets or latrines: 5% in Delhi, 6% in urban UP, and only 4% of rural UP.
"Among over 700 women interviewed in UP, not a single one without education beyond secondary school mentioned that the SBM includes a goal about toilets or latrines," said Coffey. The other problem is that the payment mechanism for toilets is also slow.
An analysis of public data by Accountability Initiative, SBM-G guidelines require 8% of allocations to be utilised for IEC. However, in FY 2016-17, till 10 January 2017, only 1% of total expenditure had been spent IEC activities.
"The huge gap in the percentage spent between construction of toilets and communication for behaviour change indicate disconnect between SBM guidelines and implementation. Behaviour change takes time. So there needs to be a strong focus on diverse, localised, multiple and repeated modes of communication. This is missing now," said Dr Khurana.
Akshay Kumar Rout, Officer on Special Duty (OSD), SBM, however, denied that coercive measures are being used to meet the 2019 deadline. "The Centre does not approve of any coercive measures. The programme has moved from toilet building to ensuring behaviour change," he told HT.
He, however, agreed that some states need training on better usage of IEC funds. "We are piloting new programmes to spread message about the link between health and improved sanitation," Rout said.
kumkum.dasgupta@hindustantimes.com
@kumkumdasgupta
Close Story
Personalise your news feed. Follow trending topics