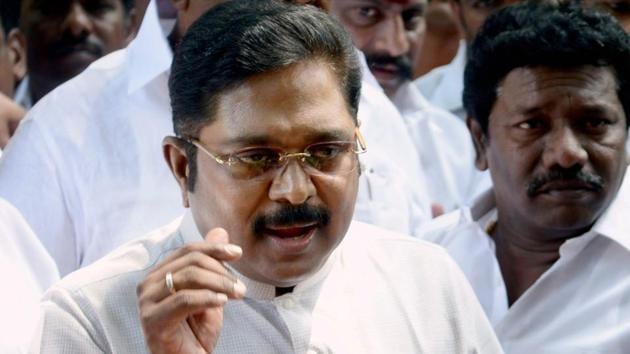 Madras HC stays floor test till Oct 4, Dinakaran says 'justice on our side'
Eight of the 18 MLAs had moved court challenging the action against them under the anti-defection law as 'unauthorised' and 'illegal'.
UPDATED ON SEP 20, 2017 06:01 PM IST
The Madras high court on Wednesday extended the stay on a floor test in the Tamil Nadu assembly till a petition challenging the disqualification of 18 MLAs was disposed of.
Though the court refused to rescind the disqualification of the 18 legislators, its stay on the trust vote and by-elections for the vacancies is being seen as a boost to the rebel camp led by sidelined AIADMK leader TTV Dinakaran.
Eight of the 18 MLAs had moved the court on Monday, challenging the action against them under the anti-defection law. The dissident MLAs had challenged the Speaker's order as 'unauthorised' and 'illegal' in their individual petitions. Dinakaran had said the Speaker move was aimed at favouring chief minister E Palaniswami.
Mr Justice Duraiswamy heard all the sides and gave time to all the counsels to file their replies till October 4 and posted the matter for that date. The final hearing in a clutch of petitions, bunched together, will be held on October 4.
The court room was packed with a battery of legal luminaries of the country including Kapil Sibal representing DMK working president MK Stalin, who had sought court's direction to governor to order a floor test and also challenged speaker's notice to 21 DMK MLAs.
Besides, former Union minister and Congress leader Salman Khurshid and senior advocate Dushyant Dave represented the Dinakaran camp, senior SC advocate Aryaman Sundaram pleaded for TN Assembly speaker P Dhanpal and former attorney general Mukul Rohtagi represented the Tamil Nadu government. Advocate Rakesh Dwivedi represented governor C Vidyasagar Rao.
"Justice is on our side and we are confident that the final verdict will come in our favour," Dinakaran said after the court ruling.
CR Sarsawathi, spokesperson for the Dinakaran camp, said the judgment would come in their favour as "our MLAs did nothing wrong".
"They have only told the governor that they did not have faith in the chief minister."
A visibly confident Dinakaran told media persons that "the traitors will lose and be sent packing home."
DMK spokesperson A Sarvanan said "it is a consent order, which stays floor test and imposes partial stay on disqualification of 18 MLAs."
The disqualification of the 18 MLAs had brought down the magic number in the 234-member House to 110 as against 117 before the disqualification.
The Palaniswami government claims support of 114 MLAs, who had attended a general council meeting that ousted jailed leader Sasikala and Dinakaran from party posts.
Following the revolt, 19 MLAs were initially put up at a resort in Puducherry.They later shifted to a resort in Coorg in Karnataka and are since then staying there.
One of them shifted camps to support Palaniswami later.
Close