Woman dies, several houses damaged as 5.7 tremor hits India-Bangladesh border
Updated on Jan 04, 2017 05:08 PM IST
Tremors were felt in Tripura and Guwahati on Tuesday after a 5.5 magnitude earthquake hit India-Bangladesh border region.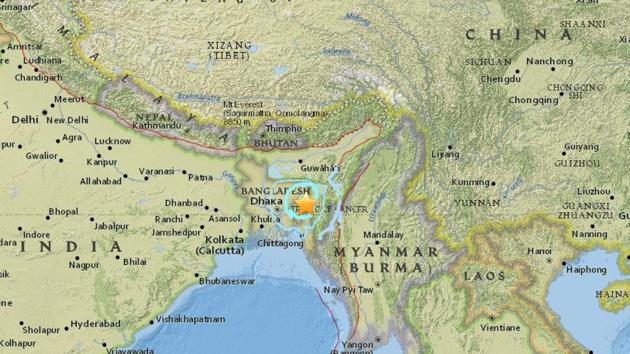 One woman was killed and several houses were damaged when a moderate earthquake measuring 5.7 magnitude on the Richter scale hit Tripura on Tuesday, triggering landslides in the hill state and jolting the country's northeast region.
The epicentre of the quake was Dhalai in northern Tripura at a depth of 28 km.
Kamalini Kanda, 50, died of heart attack out of fear during the tremor at Kamalpur in Dhalai district in Tripura, an official of the Tripura Disaster Management Centre said.
Five other people were injured in different parts of the state during the quake. The quake hit most states of the northeastern region at 2.39 pm, triggering panic.
The official said at least 50 houses were damaged, some badly, as landslides occurred in different places of Dhalai district. The earthquake blocked roads after trees were uprooted.
Recalling the incident at the time of the earthquake, Sabita Das, a resident of Kamalpur said, "We ran out of the house somehow and my husband had just returned home, but the children were in school. Our television has been damaged after a chunk of the wall had fallen on that."
Cracks developed in some old buildings, including a few police stations, in Kamalpur and Salema in Dhalai district.
The US Geological Survey said the tremor measured 5.5 on the Richter scale but Indian Met Department said the intensity was 5.7, Bangladesh's online news agency bdnews24 reported. The tremor lasted four to five seconds.
The seven northeastern states - Assam, Meghalaya, Mizoram, Tripura, Nagaland, Arunachal Pradesh and Manipur - are considered by seismologists as the sixth major earthquake-prone belt in the world.
The region experienced an earthquake measuring 8.7 on the Richter scale in 1897. Over 1,600 people had died in that quake.
Personalise your news feed. Follow trending topics