5 hours, 67 songs, 1 person on a veena: Malayalam singer sets new world record
Updated on Mar 05, 2017 10:20 PM IST
Vaikkom Vijayalakshmi, a visually-impaired musician, set a new world Guinness record for most songs played in a single sitting, bettering the previous record of 51 songs.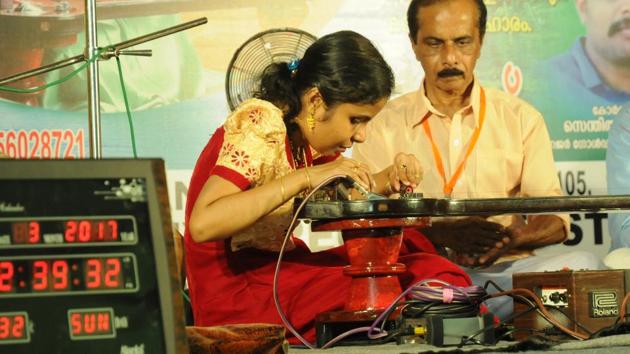 South Indian singer Vaikkom Vijayalakshmi has set a world record by playing 67 songs on Gayathri Veena, a single-stringed musical instrument, non-stop for five hours at a concert in Kochi on Sunday.
The visually-impaired musician bettered the previous record of playing 51 songs in a single sitting.
The singer became a sort of inspiration for many girls in Kerala after she called off her marriage two weeks ago when her fiancé asked her to stop performing at concerts and instead take up a job of a music teacher in a college.
"I have no regrets over choosing music over marriage," the gusty singer had said after dropping her marriage plan. With the new record she has once again proved that nothing could come between her music and she.
Several well known music composers and artists were witness to her feat. She was presented with a Universal Record Forum award and organisers of the concert said they would officially inform the Guinness Book of World Records about her achievement.
Though the initial plan was to play 52 songs, but she continued with her performance and stopped only after playing 67 songs on her instrument.
An expert at playing the rare musical instrument, Gaythri Veena she cut a niche for herself with her first song as a playback singer five years ago.
A state-award winner, she has also popularised Gayathi Veena, also known as Ek tantri veena (a single-string veena).
"It is a dream comes true for me. I dedicate this feat to my gurus and parents," the singer said after her marathon performance.
Born blind in a small town of Vaikkom (near Ernakulam), she was spotted at a young age with a rare ability to catch a tune at the first hearing and reproduce it exactly in all its nuances.
Soon she learned more than 100 ragas and made her own compositions.
"I see the world through my parents who sacrificed their whole life for me. They made music my life," said the singer who had more than 750 stage performances to her credit.
One of her fans had presented her a "Gayatru Thampuru" and she and her father worked on it and remodelled it to just a one-stringed instrument.
Violin maestro Kuunakudi Vadiyanathan happened to hear her recital on the new instrument and named her instrument "Gayatri Veena."
"Music is my life I never felt my disability is a problem," said the musician who made legendary singer K J Yesudas her "manasa guru (eternal guru).
"Her voice is sweet and her modulation is superb. She is a gifted artist," said singer G Sreeram, who sung a duet with her in Malayalam film 'Celluloid'.
Besides Malayalam, she also sung Tamil and Telugu film songs.
Personalise your news feed. Follow trending topics