Malaysian police nab Indian turtle smuggler, first through Operation Wild Net
Fakruddin Ali Ahmad Habeeb was arrested based on a tipoff by the Wildlife Crime Control Bureau (WCCB), and 55 turtles were seized from him.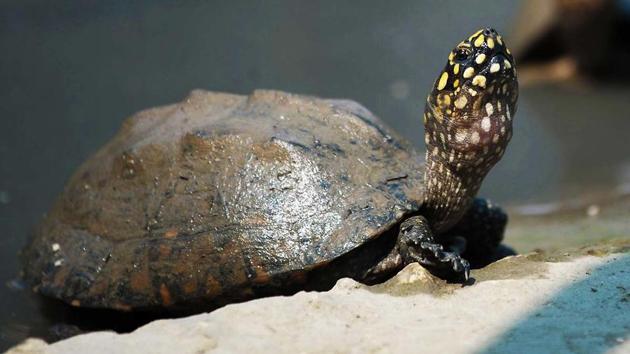 Published on May 11, 2017 10:16 AM IST
Operation Wild Net, a crackdown on illegal wildlife trade through internet, delivered its first breakthrough on Tuesday when the Malaysian police arrested an Indian smuggler and seized 55 turtles, some of which are endangered, from him.
Fakruddin Ali Ahmad Habeeb was arrested based on a tipoff by the Wildlife Crime Control Bureau (WCCB), an Indian agency dealing with wildlife crime, which was tracking a popular social networking site.
"We tried to convince him (Habeeb) to sell the turtles to us so that he could be arrested red handed. But when we learned that he was trying to smuggle the animals to Kuala Lumpur, we informed the Malaysian police and he was nabbed," a WCCB official said.
The species which the accused smuggled include Red Crowned Roof Turtle, Dhongoka Turtle, Indian Tent Turtle and Spotted Black Terrapin.
Though Dhongoka and Indian Tent turtles are considered endangered as per the Convention on International Trade in Endangered Species of Wild Fauna and Flora, an international agreement between governments, these animals are yet to be included in India's Wildlife Protection Act.
The officials said the Malaysian police is investigating how Habeed smuggled the turtles from Chennai to Kuala Lumpur.
"Operation Wild Net is the first crackdown on wildlife trade that is being done over the internet through social networking sites and online trading sites. We have been tracking them over the past few months before the operation was formally launched on May 1," said Tilottama Verma, director of WCCB in Delhi.
The Operation involves police and forest departments of all the states and Union territories, and information is also passed on to the Interpol regularly for action against traders located outside the country.
A year back, the Union forest department had listed names of around 106 e-commerce sites which were dealing with illegal trade of protected animals and their body parts.
Posing as decoy customers, cyber specialists of WCCB regularly scan the sites with some code words and terminologies used by the smugglers. Whenever a message offering some wild animals or its parts is detected on any website, officials start gathering information, which is then passed on to the police and forest department for legal action.
"Words such as lakdi, chaddar, indrajal, kodi and murgi are used by smugglers. While lakdi refers to bones of tigers and leopards, skins are sometimes traded under the code name of chaddar. Indrajal is actually a sea fan and Murgi is a Tokay Gecko. Pangolin scales are sometimes traded as chimta," said an official.
The most frequently traded items are star tortoises, parakeets, hill mynah, ivory articles, and Indian soft shell turtles. Sometimes tiger nails, pangolin scales, Kasturi and Musk pods are also traded.
Close Story