Mandsaur farmers' protest: Yogendra Yadav, Medha Patkar, Swami Agnivesh arrested
Updated on Jun 11, 2017 11:28 PM IST
They had been stopped from entering Mandsaur to meet the families of the five persons killed in police firing.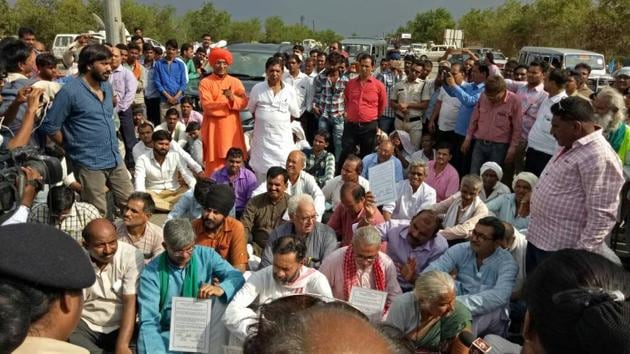 Civil activists Swami Agnivesh, Medha Patkar, Yogendra Yadav and scores of other activists were arrested on Sunday in Ratlam on the way to Mandsaur, where they were going to meet members of the aggrieved families of five members who were killed in a police firing.
According to sources, the police arrested the civil activists at a toll plaza late in the afternoon. They were being taken to Jaora in Ratlam by the police.
When contacted, DIG police Ratlam range Avinash Sharma said that in all about 35-40 people had been arrested because they did not listen to the police's request to not to visit Mandsaur as prohibitory orders were issued under section 144 of CrPC.
The arrested activists also include ex-MLAs Sunilam, Kalpana Parulekar and Paras Saklecha, all from Madhya Pradesh.
While talking to media persons immediately after being arrested, Swami Agnivesh criticised the police action and said, "We came here for building an atmosphere of peace and brotherhood, not to breach the peace but the police don't want to allow us to meet the families as it didn't want to get its wrongdoings exposed before the world outside."
Yogendra Yadav later tweeted that "false news" was being spread that the group violated prohibitory orders. "Section 144 stops assembly of more than 4. We agreed to go in batches of 4," he tweeted.
Paras Saklecha said representatives of different parts of India had come with the soil from their respective regions to show their solidarity with the farmers in Malwa region, where the agitating farmers were raising their demands, but the government showed highhandedness and killed six of the farmers during their agitation.
However, DIG Avinash Sharma said, "We cannot allow anybody to enter the district as their single word or action can lead to a law and order problem. Things are getting better by the day as far as law and order situation is concerned."
Personalise your news feed. Follow trending topics