Maneka Gandhi under fire for 'hormonal outbursts' remark
Updated on Mar 29, 2017 08:38 PM IST
Union minister Maneka Gandhi has drawn flak on social media for justifying hostel curfew for girls. She maintains her comment to a TV channel was taken out of context.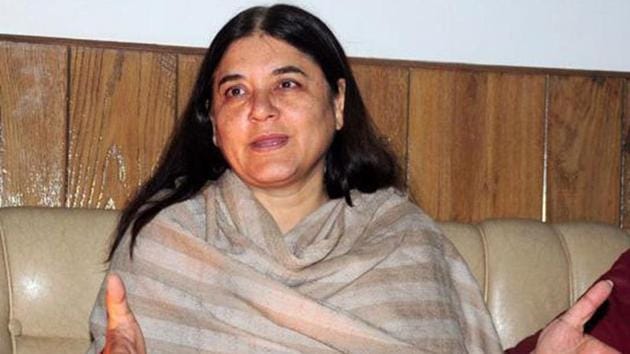 Hindustan Times, New Delhi |
, New Delhi:
Moushumi Das Gupta (HT Editorial, New Delhi)
Women and child development minister Maneka Gandhi came under fire from Twitter users following her comment on a NDTV show on Monday ahead of International Women's Day on March 8 where she justified early curfew for girls in hostel, saying it is needed to protect them from their own "hormonal outbursts."
"As a parent who is sending a daughter to a college - or a son – I would expect her and him to be protected. And perhaps one of the protections is against themselves. When you are 16 or 17 you are also hormonally very challenged. So to protect you from your own hormonal outbursts, perhaps a lakshman rekah is drawn," Gandhi had said when asked by a college student the rationale for having early curfew only for girls in hostels.
Gandhi on Tuesday, however, told HT that a part of her statement has been taken out of context. "If you see the video I have said that there has to be same deadlines for both boys and girls and why should boys be allowed to wander about in the campus after 6 pm," Gandhi told HT.
Soon after the show, Gandhi's comments went viral on social media with Twitterati slamming the statement as "regressive." "You know what would be safest? Lock hormonal men in, instead of denying women the right to lead a full life," said one twitter post.
"So Maneka Gandhi advocates Hostel curfew for 'Girls' to Hormonal Outburst I really laud her vision to see that all the rapes are by women," Aastha Varma said in a scathing tweet.
"Hormonal Outburst' – Ooo! What a ring to the phrase. Hormone ko chahiye Azadi," wrote Amandeep Sandhu.
Another Twitter user suggested that Maneka Gandhi eat 'lauki ki sabzi' to control her hormonal outburst.
Gandhi also took a jibe at the security guards posted at women's college saying that one can't expect two "Bihari" guards posted at the college gate with dandas (wooden sticks) to ensure that no untoward incident takes place.
"It has to be solved literally by giving time limits for everything… Give them (boys) two nights to go to the library and two nights for girls, if you want to go to library," she said.
Personalise your news feed. Follow trending topics