Men should learn to do household work, women martial arts, says Sushma Swaraj
Apr 29, 2017 11:38 AM IST
Sushma Swaraj said that encouraging men to study home science will help break the traditional mindset about women.
Men should be encouraged to study home science in college and hone their culinary skills, while women should be motivated to take up physical education, especially martial arts, as an effort to banish gender bias from society.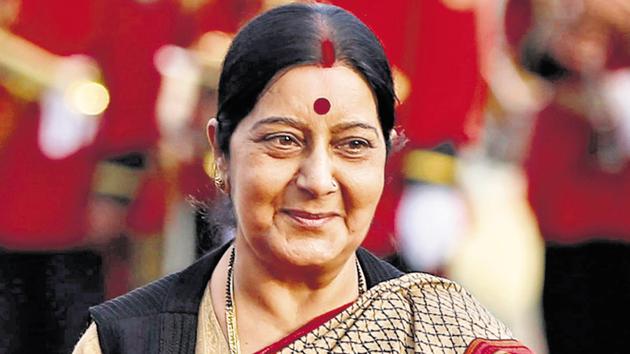 The suggestion was made on Thursday by external affairs minister Sushma Swaraj at the Group of Ministers (GoM) meeting to review the national policy for women.
The policy, which is being revised for the first time in 16 years, will address current and emerging challenges involving women, especially issues related to their health, education and employment.
One of the top woman politicians in the country, Swaraj heads the GoM.
"She told the meeting that encouraging men to study home science will help break the traditional mindset about women. In this way, men can also contribute to making women's life better. Swaraj said though men and women are working, the workload on women is far more," said a government source.
For someone who had juggled politics, high office and family duties with finesse, her suggestion gave perspective to a growing call to shut out the age-old stereotypical role women are restricted to.
The GoM has 11 members, including commerce minister Nirmala Sitharaman, IT minister Ravi Shankar Prasad, urban development minister Venkaiah Naidu, WCD minister Maneka Gandhi among others.
Naidu, also present in the second meeting of the GoM, rooted for reservation for women in educational institutions.
"This will help women get better opportunities," Naidu said.
He also recommended that women starting business should be given more loans, a source said.
Another interesting suggestion came from Prasad who said women under-trials, accused of non-heinous crimes, and if convicted, should be released once they have served one third of their time.
Commerce minister Nirmala Sitharaman wanted women under-trials to be put up in special homes.
The WCD ministry, which is anchoring the policy, will go through the suggestions made by the GoM before deciding what all to incorporate.
The ministry is also crowdsourcing innovative ideas from citizens to make the policy more contemporary.
For the first time, the draft policy has also addressed issues related to single women and widows.