Modi asks BJP MPs, MLAs to submit bank transaction details to Amit Shah
Updated on Nov 30, 2016 01:19 AM IST
Prime Minister Narendra Modi asked all BJP legislators and parliamentarians on Tuesday to submit their bank transaction details to party president Amit Shah, three weeks after he abruptly recalled high-value banknotes to drain illegal cash from the economy.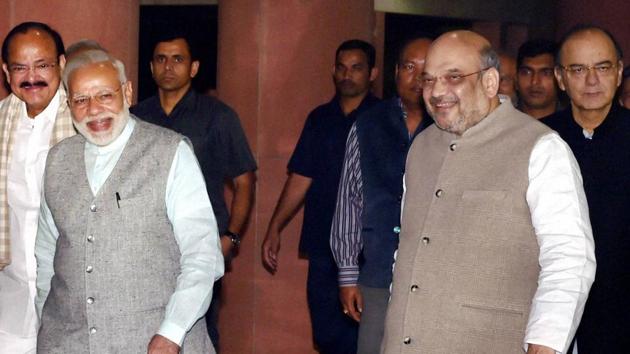 Prime Minister Narendra Modi on Tuesday asked BJP legislators and parliamentarians to submit details of their bank transactions between November 8 and December 31 to party chief Amit Shah.
The dates correspond with when banknotes of denomination Rs 500 and Rs 1,000 were scrapped (November 8) and the last date for handing over one's demonetised currency at banks and post offices (December 31).
At the weekly meeting of the BJP parliamentary party, Modi also said the amendment to the income tax act was not to help convert black money into legitimate wealth, but channel the money looted from poor to their welfare.
"I will not allow the country to be weighed down by wads of currency notes (black money)," Modi said at the meeting. The Lok Sabha passed the amendment bill later in the day.
The PM's call for declaring banking transactions of BJP leaders appears to be a move to buttress his commitment to transparency and probity in public life.
It is also meant to counter the Opposition parties' attempt to run down the Centre's demonetisation decision by highlighting its poor implementation and also by questioning the real motive.
The Congress dubbed the move as the PM's yet another "jumla" (gimmick) and dared him to make public all financial and land dealings of the BJP and the RSS in the past six months.
Modi's move is an attempt to deflect public attention from the alleged leakage of demonetisation decision, Congress's chief spokesperson Randeep Singh Surjewala said.
AAP leader and Delhi chief minister Arvind Kejriwal said the BJP's lawmakers should reveal their transactions of the last six months amid allegations from his party that they knew of the demonetisation move and have invested in property.
Read | UP made you PM, can also remove you: Mamata warns Modi over demonetisation
Parliamentary affairs minister Ananth Kumar said the details will be made public later.
Opposition parties disrupted the functioning of Parliament for the 11th day on Tuesday over this issue.
Alleging that the demonetisation move was "leaked" in advance to favour those close to the ruling dispensation, they have demanded the setting up of a joint parliamentary committee to probe it.
The government has dismissed these allegations.
The ruling party is also under attack from opposition parties following reports that before banknotes ceased to be legal tender, the BJP's Bihar and Odisha units had bought huge chunks of land and its West Bengal unit deposited a substantial amount of money in a bank.
Read | PM Modi takes veiled digs at Mamata, Congress over demonetisation issue
The Prime Minister's instructions to party MPs and MLAs on Tuesday might give a talking point to the BJP and also pressure other parties to follow suit.
BJP chief Amit Shah has told party MPs to counter the Opposition's disinformation campaign, particularly in rural areas. He also urged them to motivate traders in panchayats, municipalities and other local bodies falling in their constituency to shift to cashless transactions.
Read | Massive support for demonetisation but implementation patchy: Central team
Personalise your news feed. Follow trending topics