Modi government policies are burning Kashmir: Congress VP Rahul Gandhi
Published on Jul 22, 2017 12:08 AM IST
The Congress vice president accused the Narendra Modi government's policies of "burning" the northern state and flayed any attempt for third party intervention to resolve the issue, saying "Kashmir is India.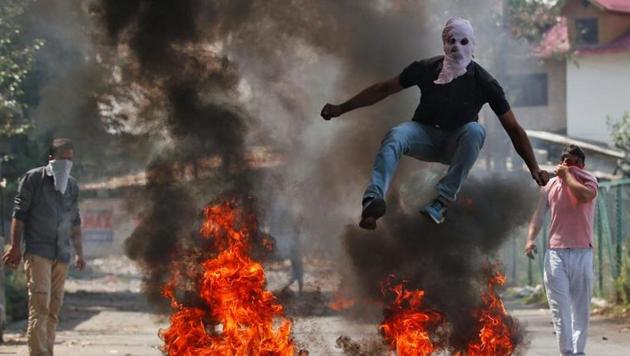 Hindustan Times, New Delhi |
HT Correspondent
Congress vice-president Rahul Gandhi reiterated his charge on Friday that the Modi government's policies are "burning" Jammu and Kashmir, asserting that no third party intervention was required to resolve India's internal matters.
"India is Kashmir and Kashmir is India," Gandhi told reporters in the Parliament House Complex. "It is being said there should be discussion on Kashmir with China and Pakistan, but this is our internal matter... our internal business and no one should interfere in it," he said.
Reacting to China's offer of playing a "constructive role" in resolving the Kashmir issue, India had earlier said its stand of resolving all matters bilaterally with Pakistan, including Jammu and Kashmir, has not changed
Kashmir has been on the boil since the killing of Hizbul Mujahideen commander Burhan Wani in an encounter on July 8 last year. This year, on July 10, terrorists attacked a bus carrying Amarnath pilgrims in south Kashmir, killing seven of them.
"I have been saying this for a long time that Modi's and the NDA's policies are burning Jammu and Kashmir," the Congress vice president said.
The main opposition party has also been unsparing on the Peoples Democratic Party-BJP coalition government in Jammu and Kashmir over the deteriorating situation in the Valley.
In the last working committee meeting on June 6, party president Sonia Gandhi also took a combative stand against the government.
"Where there was harmony, there is discord. Where there was tolerance, there is provocation. Where there was relative calm, as in Kashmir, there is growing confrontation, tension and fear," she said.