Modi govt is making hollow and false promises, says Rahul Gandhi
Press Trust of India |
, Raichur
Press Trust of India
Aug 12, 2017 09:07 PM IST
Congress vice president Rahul Gandhi on Saturday hit out at the Modi government over farmer and unemployment issues, accusing it of making "hollow" and "false" promises".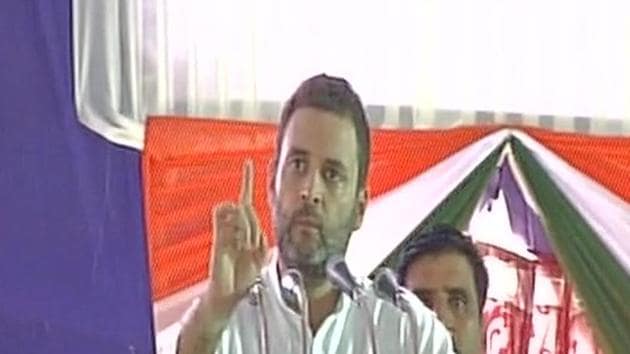 "We don't make big promises; rather we will perform and show. When Modiji's government came, farmers were promised full help, but across the country farmers are committing suicide," Gandhi said.
He said in Karnataka and Punjab, Congress governments had stood by the farmers.
"Wherever there is Congress party government, you will see them standing with farmers, because we understand that farmers make India strong. If farmers are strong India will be strong, if they are weak India will become weak."
The congress leader was speaking at the state Congress committee's 'Samanatha Samavesha' here to felicitate him for his role in providing special status to the backward Hyderabad-Karnataka region during the UPA rule, by an amendment of Article 371(J) of the Constitution.
Speaking about article 371(J), Gandhi said Congress has fought with the people for this for their development.
Claiming that BJP veteran LK Advani as Union home minister was against Article 371 (J), he said after Congress came to power in 2004, the special status was granted which has benefited people to a large extent today.
"I'm happy to note that the amount that BJP has put here in five years, that much amount is being put in three months by the Congress government today," he said, taking note of various developmental activities in the region.
Chief minister Siddaramaiah, Congress leader in Lok Sabha Mallikarjuna Kharge, general secretary in-charge KC Venugopal, KPCC president G Parameshwara and several other party leaders were present at the event.
Stating that Congress believes in Gandhiji's preaching of helping the poor and those at the fag end of the line, Gandhi said, "BJP and RSS's thinking is different; they believe that if they help those at the forefront of the line, things will be good. This is the difference between us."
He noted that Finance minister Arun Jaitley had said in Parliament that loan waiver was not the government's policy and a BJP leader had said they did not want to make farmers lazy by doing it.
"When you waive the loan by India's 10 richest Industrialists, they don't become lazy, but when you waive farmers loan they will become lazy. How fair is this?"
He lauded Siddaramaiah for announcing the farm loan waiver in Karnataka.
Gandhi said when the Congress-led government was at the Centre, every year minimum support price (MSP) on crops used to increase by about 15 per cent, but after BJP came to power it has been increasing only by two to three per cent.
He said Congress government in Karnataka is making efforts towards ensuring farmers fair price, through unified marketing platform.
"We are helping farmers and weaker sections wherever we can, but they only speak and make hollow and false promises," he added.
Taking a dig at the Modi government for low employment rate, Gandhi said the government in Karnataka is doing a far better job in this regard.
"...they speak about Make in India, not even one factory has opened. Who has got employment here because of make in India? Now tell me how many jobs has Siddaramaiah given in Karnataka?--30,000..."
"False promises on one side, on the other hand Congress chief minister working from heart for the people and doesn't make hollow promises. This is the difference between us and them," he said.
Accusing the Modi government of indulging in false and hollow promises, the congress leader said people know that Congress will do, what it says.
"Farmers know that only Congress can help them and youth in India have understood that Narendra Modi canot provide employment to them. It is now proved and youths have realized it," he said.
Hitting out at the government on demonetisation, Gandhi said, "last year I don't know what happened on November 8th Narendra Modi got an idea, he came on the TV and said Bhaio, Behno I'm going to ban the notes in your pockets...as though it was fun. Whole of India, small farmers, labourers, and women were affected."
"On November 8, Narendra Modi gave axe blow (kuladi maari) to entire India...people are feeling its effects even today," he said.
Gandhi also called on party men to face the Assembly elections early next year unitedly in Karnataka as he expressed confidence about winning the polls.
"...Congress party will win the election on the strength of its work, the work done towards farmers, youth in the state. I want to tell our party workers that you are our strength. We should all work together with unity and have to fight this election," he said.
"We should work for poor, weaker sections, Dalits, adivasis, backward classes and those in need of help. What we have done in the last five years, we will do more than that in next five years," he added.