Mob beats Muslim women in MP over beef rumour, Oppn corners govt in House
Hindustan Times |
, Indore / New Delhi
HT Correspondents
Jul 27, 2016 11:37 PM IST
As police looked on, two Muslim women suspected of carrying beef were beaten up and abused by Hindu Dal activists at a railway station in Madhya Pradesh's Mandsaur district.
A mob slapped, punched and kicked two Muslim women on suspicion they were carrying beef in Madhya Pradesh, an incident that spurred the Opposition to attack the BJP-led government at the Centre in Parliament over increasing violence by cow vigilantes.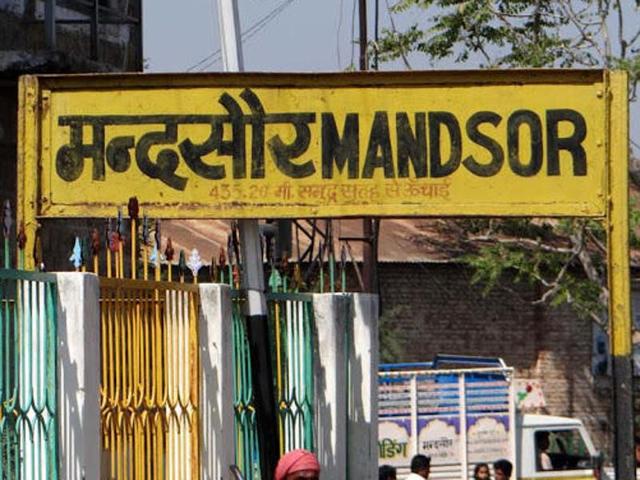 A veterinary test later revealed the 30kg of meat seized from the women at Mandsaur railway station on Tuesday was buffalo and not beef, state home minister Bhoopendra Singh said on Wednesday.
Cows are revered by Hindus and slaughtering them is illegal in most states, including in MP. The state and many others also bar the sale and possession of beef.
The slaughter of buffalo and consumption of its meat are legal in MP, but sellers need a permit from the local civic body. Since the women didn't have one, they were booked but later released on bail.
On their complaint, the police registered a case of criminal assault and wrongful confinement against unidentified persons.
The incident came two weeks after four Dalit men were beaten up by gau rakshaks (cow protection activists) in Gujarat, allegedly for skinning a dead cow. It brought back memories of the mob lynching of Mohammad Ikhlaq over rumours of eating beef in Uttar Pradesh's Dadri district in December.
"Cows must be protected, but we are against the targeting of Dalits and Muslims in its name," Congress MP Ghulam Nabi Azad said in Rajya Sabha as opposition parties disrupted proceedings.
His party colleague Anand Sharma asked why Prime Minister Narendra Modi was silent on the attacks: "He has done Chai Pe Charcha and Mann Ki Baat but why not on this issue?"
BSP chief Mayawati accused the BJP of making claims of protecting the girl child and giving dignity to women while setting goons on them. She also alleged the police had done nothing to stop the mob from attacking the women.
Mayawati sought an explanation from minister of state for parliamentary affairs Mukhtar Abbas Naqvi as her MPs stormed into the well of the House.
Naqvi said the government was ready for a debate but urged the Opposition to rise above politics on sensitive matters. "Any incident of violence is condemnable. The MP government has taken action," he said.
Delhi chief minister Arvind Kejriwal, whose Aam Aadmi Party does not have representation in the upper House, tweeted, "I again repeat — it is systematically being done by support from top BJP leadership. They will ruin this country."
A mobile phone recording of the assault showed several police personnel — who had come to arrest the women on a tip-off — watching as the two were beaten for close to half an hour by a crowd that shouted "Gau mata ki jai (Hail holy cow)".
The police are going through the footage and will identify and arrest the culprits soon, said Mandsaur superintendent of police Manoj Kumar Sharma.
Defending the attackers, BJP MLA from Mandsaur Yashpal Sisodia said, "These women are criminals and it was women who beat them up. It was a reaction to an action."
Amid speculation that the mob was led by right-wing activists, Hemant Mulchandani, an office-bearer of the Vishwa Hindu Parishad who was at the scene, said, "When I arrived, the police were already there. We didn't instigate anyone to thrash the women."
He said the women were beaten up by their co-passengers after a rumour spread that they were carrying beef.
SP Sharma said one of the women had been booked in four other cases, two of which had led to convictions. "They are an organised gang and we have information that they regularly carry meat to Mandsaur from neighbouring areas."