MP tribal girl to study in an Oxford school in Britain
Updated on Sep 11, 2016 04:19 PM IST
It's a dream come true for a tribal 16-year-old girl who will set off for UK to study English language in an Oxford school in the next one or two months, translating the famous saying -- where there is a will, there is a way – into a reality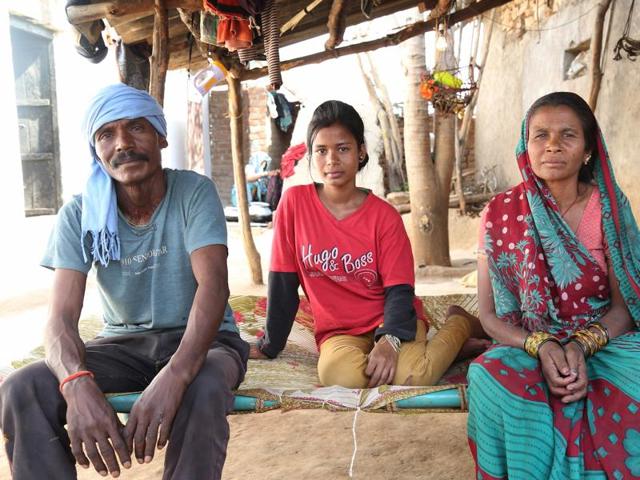 It's a dream come true for a tribal 16-year-old girl who will set off for UK to study English language in an Oxford school in the next one or two months, translating the famous saying -- where there is a will, there is a way – into a reality. The only condition is that her passport formalities are done on time.
Asha Gond, who hails from Janwaar village in state's Panna district, was introduced to English language recently and she soon developed a penchant for this language after getting all kinds of support and encouragement from a German woman, Ulrike Reinhard, who has created a skatepark in Janwaar and trains school-going tribal children in skating and English language.
"I am very excited. I don't know what UK is like but I will definitely make the most of it. I am not at all scared and will give my best," said an enthusiastic Asha while talking to HT over phone on Thursday.
"Asha, who has just finished her class 10 from Manohar Kanya High School in Janwaar, did very well in the English course during our summer camp in June last year. So I promised her to take her to UK to learn English. Initially her parents Dharmraj and Kamala Gond were reluctant in allowing her to go abroad and it took me eight months to convince them to let her go. I went to their house many times. I spoke with her mother Kamala while she was working in the fields in the scorching heat. Asha's family is entirely dependent upon farming. These villagers are very simple and usually marry off their daughters once they attain the age of 18 years. They don't understand the significance of studying English language and that too abroad," said Reinhard.
It was a tough task for Ulrike when she was trying to persuade Asha's parents. She even had to bring in Lokendra Pratap Singh, MLA of Panna constituency, and her school teacher Awadh Bihari to convince her parents. "Singh explained to her parents that she will be safe and fine and that it is a lifetime opportunity for her," said the German woman.
Talking to HT, the Panna MLA said, "I told Asha's parents that she can be an example for other children in village. She will be the first person to go abroad to study a foreign language. I can understand her parents' concern but this was important and we managed to convince them."
"I thought it would never happen. But Asha never gave up and kept telling her parents that she wanted to go. Finally her parents agreed and I remember Asha had tears in her eyes. So had mine," said Ulrike.
When asked about her future plans after coming back from UK, Asha said, "I will keep reading and will try to make other children read too." Her parents have promised Ulrike that they won't marry her off when she comes back. "She'd rather will have a job at Janwaar Castle and translate my words into that village's language," added Ulrike.
Personalise your news feed. Follow trending topics