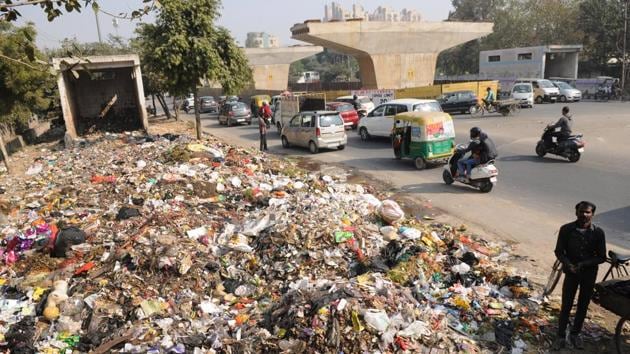 NGT announces fine of Rs 10K for throwing solid waste in public places
Anyone who throws waste over any drain or public place shall be liable to pay environmental compensation at the rate of Rs 10,000 per default, a bench headed by NGT chairperson justice Swatanter Kumar said.
By HT Correspondent
UPDATED ON DEC 20, 2016 01:01 AM IST
People disposing of garbage in the open will have to pay a fine of `10,000, the National Green Tribunal (NGT) announced on Monday.
Terming solid waste as a major pollutant affecting the city, the tribunal said civic authorities were under a "statutory" obligation to ensure that waste was "collected, transported and disposed" of in accordance with the Solid Waste Management Rules-2016. All major sources of municipal solid waste generation — including hotels, restaurants, slaughterhouses and vegetable markets — should be directed to segregate their waste before handing it over to the corporation, the bench headed by NGT chairperson justice Swatanter Kumar added.
"Any such body, person, hotel, resident, slaughterhouse or vegetable market that does not comply with the directions, or throws their waste in drains or public places, shall be liable to pay environmental compensation at the rate of `10,000 per default," the tribunal said.
The erstwhile anti-littering law of 2009 provided for a paltry penalty ranging from `50 to `500.
In June, the state government asked municipal corporations to change the bylaws in tandem with the Union government's Solid Waste Management Rules-2016. Following this, fresh provisions for imposing fines ranging from `500 to `5,000 for dumping garbage and littering in public spaces were introduced.
The tribunal noted that the national capital generates 9,600 metric tonnes of municipal solid waste every day, and no municipal body has prepared a "clear map" to deal with such huge quantities of garbage.
It then set a one-month deadline for the city's three civic bodies to present schemes aimed at incentivising people who provide segregated waste at the source. "This can be done by way of rebates in property tax. On the other hand, those who do not provide segregated waste can be penalised," it said.
The NGT said it was the duty of every citizen to ensure that waste was handled in a manner that prevents pollution and inconvenience to others. "The entire burden cannot be shifted onto the state and civic authorities," it added.
The tribunal was hearing a petition relating to mismanagement of municipal solid waste in Delhi, and the terrible conditions at landfill sites nearby.
The civic bodies, for their part, are gearing up to implement the order. "The court's direction came on December 2, and we are preparing an action plan for implementing the decision. This includes ensuring the seamless functioning of three solid waste management sites at Okhla, Ghazipur and Najafgarh. If they don't fulfill their duties, the concessionaires will be penalised `5 lakh each in accordance with the court's direction," a senior official of the South Corporation said.
Close