No dowry for Bihar health minister Tej Pratap, but bovine fine as wedding gift, says father Lalu
RJD chief Lalu Prasad has announced a 'dowry-free' wedding next year for his elder son, Bihar health minister Tej Pratap Yadav, but he also made it clear he won't mind receiving a cow as a wedding gift.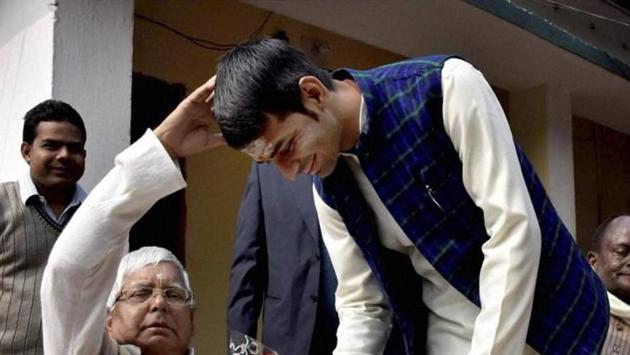 Published on Apr 16, 2017 09:59 PM IST
Rashtriya Janata Dal (RJD) president Lalu Prasad has promised a 'dowry-less' wedding for his elder son – Bihar health minister Tej Pratap Yadav. But there is just one rider: the ceremonies won't be over till at least one cow has come home!
"I want the wedding function to be simple, unostentatious and without any dowry. But I won't mind if the bride's family gives a cow or a calf as a symbolic gift to my son, as a part of wedding custom", said Prasad, with a twinkle in his eyes.
The RJD chief's love for all creature bovine is legendary. Scores of cows were reared at his official 1, Aney Marg, residence when Prasad was CM of Bihar (1990-1997) and thereafter, when his wife, Rabri Devi ruled the state (1997-2005).
However, the occasion for the immediate 'cow banter', on Sunday, was Tej Pratap's 28th birthday, an occasion that Prasad and Tej's mother, former chief minister Rabri Devi, chose to announce the wedding of their minister son, next year.
"We are looking for a homely and cultured girl for Tej. A large number of proposals have come and we will take a call soon," said the doting parents, after they had blessed their son on his big day, at their 10, Circular road, residence, in a VIP enclave of western Patna.
A blushing Yadav scion said he would marry any girl chosen by his parents.
"I have married off my seven daughters without giving any dowry. I will follow the same practice in my son's marriage," said Rabri, mother to a total of nine children, the eldest among them being Rajya Sabha MP Misa Bharati.
The RJD's first couple is blessed with seven daughters and two sons, Tej Pratap and his younger brother, Bihar deputy chief minister Tejashwi Prasad Yadav. The latter, going by social media reports, also commands a high billing in the marriage market.
A few months back, Tej had raised eyebrows when he reportedly stated he would not mind if his younger brother got married first, as he was more popular among girls.
Both Prasad and Rabri Devi were evasive when asked whether they would prefer a girl from a political family based in Bihar, for their elder son. "Marriages are made in heaven. Besides, a marriage proposal can come from anywhere in the country. We have no reservations about geographies," said Prasad.
Four of Prasad's children - fourth daughter Ragini, fifth daughter Hema, sixth daughter Anushka and youngest daughter Raj Lakshmi, are married in top political families.
Asked whether Tej's wife would ever enter politics, Rabri Devi quipped: "Why not?"
When asked about the charges levelled against Tej by BJP leader Sushil Modi, of not disclosing in his 2015 Bihar assembly poll affidavit "property worth crores of rupees", Prasad said his son was 'masoom' (innocent like a child).
"Modi had promised he would resign from politics if his allegation of supply of soil to Patna zoo from a mall site (allegedly owned by Tej) was found wrong. It is now open there was no wrong doing. Why hasn't Modi resigned?", asked Prasad.
Close Story