No security or protocol as Modi's wife Jashodaben visits Telangana temples
In a surprise visit to Telangana, Prime Minister Narendra Modi's wife Jashodaben Modi went temple hopping without security or protocol over the past two days.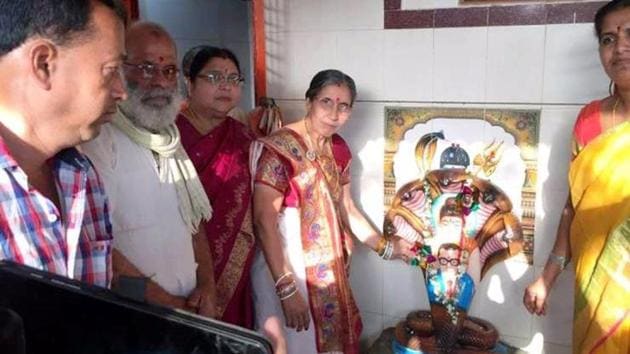 Published on Apr 15, 2017 08:01 PM IST
Jashodaben Modi, wife of Prime Minister Narendra Modi, made a quiet and surprise visit to some temples in Telangana, without security or protocol, in the last two days.
Accompanied by her brother Ashok Modi and his wife Unjha, 65-year old Jashodaben, who prefers to maintain a very low profile, landed in Hyderabad on Thursday evening and drove to Vikarabad town, about 100 km away from the state capital. She was provided accommodation by Baradi Ramesh, a former Bharatiya Janata Party councillor of Vikarabad town.
"There was no information about her visit, even with the local police. She did not even have the security cover around her. She was so simple," Venkata Ramana, a local journalist in Vikarabad, told Hindustan Times.
Modi was married to Jashodaben at the age of 18. They lived together for a few months, after which Modi left home to work with the RSS and virtually severed all ties with her.
According to Ramana, the local BJP leader had some connections in Gujarat through which he and his family members met Jashodaben some time ago and asked her to visit the famous Naga Devatha temple in the town of which Ramesh was a trustee. "She promised to come one day and suddenly, she landed here on Thursday night," he said.
Early Friday morning, Jashodaben went to the temple and offered prayers. She also visited other local temples of Lord Shiva and Goddess Santoshimata and worshipped the deities. She offered fodder to cows on the temple premises and participated in the "anna danam" (feeding the poor).
Surprisingly, the temple also had a statue of Babasaheb Ambedkar and since Friday happened to be his birth anniversary, Jashodaben garlanded his statue. "We installed the statue of Ambedkar in the temple, because we treat him like a God," Ramesh said.
In her brief interaction with the local media, Jashodaben said she had heard about the Vikarabad temple some time back and was planning to visit the temple for quite some time. "I am happy that I could come here on the occasion of Ambedkar Jayanthi," she said.
When asked about the regime of Narendra Modi, she said it was excellent. "I am confident it would be much better rule in the coming years," she said.
On Saturday morning, Jashodaben had a darshan of Goddess Lakshmi at the famed Bhagyalaxmi temple abutting historic Charminar in Hyderabad. After offering her prayers at the temple, she had a brief interaction with the priests and temple committee members, who later felicitated her.
She left later on Saturday.
Close Story