India News
Swipe up for the next story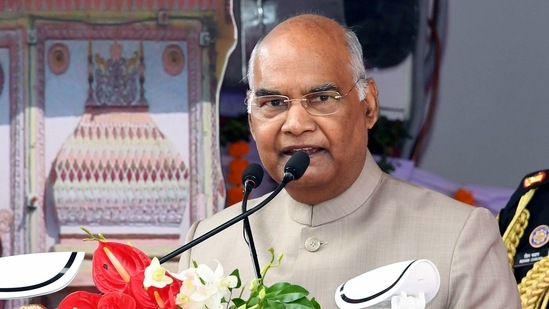 President Kovind's message came as Ganesh Chaturthi celebrations will be muted this year as well and several governments have imposed restrictions, asking people to celebrate the 10-day festival at home.
Data on class distribution of income is not compiled centrally, the government told Parliament on Tuesday in response to Congress chief Mallikarjun Kharge's questions about the rising inequality between the top 1% and the bottom half of the population. Chaudhary cited schemes such as National Rural Livelihoods Mission and National Social Assistance Programme and said they have been introduced to bring about overall improvement in the quality of lives in rural areas.
State-owned Life Insurance Corporation of India holds less than 1% stake in both equity and debt in the Adani Group, the government told Parliament on Tuesday. Opposition parties have cornered the government over the exposure of the State Bank of India and LIC to the Adani Group. Opposition parties have disrupted parliamentary proceedings demanding a probe into allegations.
Congress leader Rahul Gandhi addressed the Lok Sabha during a Motion of Thanks on the President's address on Tuesday. He also spoke about the Bharat Jodo Yatra, and agniveer scheme. Here are Rahul Gandhi's top quotes from his address in Parliament: 1. When we first started walking, we wanted to play the opposition and tell people about their problems. Read: 'Power behind billionaire…': Rahul Gandhi's dig at PPrime Minister Narendra Modiover Adani issue 4.
Prime minister Narendra Modi on Tuesday became emotional over the devastating earthquakes in Turkey and Syria, and recalled the 2001 Bhuj earthquake that claimed over 20,000 lives and left over 1,50,000 people injured in Gujarat, reported news agency ANI. Narendra Modi was the chief minister of the state in 2001. The PM said that he could very well relate to what Turkey is going through right now. In 2001, a massive earthquake jolted Gujarat's Bhuj.
Here are today's top news, analysis, and opinion. Know all about the latest news and other news updates from Hindustan Times. Move over Bitcoin, it's time for Britcoin: UK may launch its digital currency UK said British businesses and consumers are likely to get a digital version of the pound while asking public for their opinion on the idea of introducing a central bank digital currency.
Over 7,000 officer posts have been lying vacant in the Indian Army since last year, minister of state for defence Ajay Bhatt said in a written response in the Lok Sabha on Monday. Replying to Janata Dal (United) MP Ram Nath Thakur, Bhatt noted that there are 511 vacancies in the role of military nursing officers as of December 15, up from 471 as of January 1 last year.
The Union environment ministry will begin discussions on climate and sustainability under the aegis of intergovernmental forum G20 on Thursday with a focus on land degradation and biodiversity loss, a sustainable blue economy and circular economy. India assumed the forum's presidency in December and will host global leaders and 200 meetings related to 32 sectors across the country this year. Key environmental issues are being discussed as part of G20 working groups.