Owaisi says Yogi Adityanath's surya namaskar remark is aimed at fooling people
The Hyderabad MP was responding to the statement made by UP CM Yogi Adityanath in which he questioned the rationale behind terming yoga as communal and said that many postures of the surya namaskar closely resemble that of the Islamic namaz.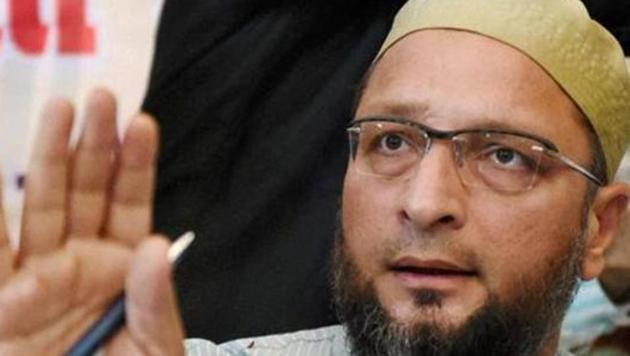 Updated on Apr 01, 2017 07:00 PM IST
AIMIM chief Asaduddin Owaisi on Saturday said that Uttar Pradesh chief minister Yogi Adityanath's statement saying many postures of 'surya namaskar' closely resembled 'namaz' was aimed at fooling Muslims and asserted it would not work.
Owaisi also alleged that instead of addressing issues like loss of employment due to action against slaughter houses in Uttar Pradesh, Adityanath was making statements that "won't have any impact whatsoever."
"Statements drawing similarity between surya namaskar and namaz, and fasting during Ramzan and Navratri are aimed at fooling Muslims. These are not going to work," the Lok Sabha member from Hyderabad told PTI here.
"These are all patronising statements, which the Muslim community has been hearing for the past 55 years," he said.
Owaisi said the primary duty of the chief minister was to do justice.
Adityanath had recently said 'surya namaskar' was similar to 'namaz' (prayers) offered by Muslims and those opposing the yogic exercise wanted to divide the society on religious lines.
"Everyone knows that surya namaskar postures are similar to that of namaz, but troublemakers give it a communal hue," he had said.
Owaisi also slammed the decision to shut down illegal slaughter houses in Uttar Pradesh.
"Fifteen lakh people are engaged in the profession of selling and distributing meat and the action against slaughterhouses is putting their employment in jeopardy. Why isn't he (Adityanath) addressing that? Instead of that, all these statements (on surya namaskar) are being made. It will not have any impact whatsoever," he said.
Owaisi alleged the food processing units engaged in meat export are also being closed in Uttar Pradesh.
"Can you imagine the loss to the nation? Nearly Rs 11,000 crore worth of buffalo meat is exported (every year) from Uttar Pradesh itself."
The AIMIM leader also charged that the BJP-led government at the Centre is being soft on Swami Aseemanand, an accused in the 2007 Mecca Masjid blast case, who was granted bail by a court here last week.
The government's statement that it is firm on its fight against terrorism is "hollow" because it is not "firm" on Aseemanand, he said.
"Why are you not firm on Aseemanand? Why are you not challenging the bail given to Aseemanand? Why are you soft on Aseemanad? Aseemanand is still facing grave charges of terrorism in Mecca Masjid bomb blast, Samjhauta blast (cases). You don't want to appeal against the bail. What kind of message are you sending?" he said.
Aseemanand was released from the Chanchalguda central prison in Hyderabad Friday evening.
Close Story
Personalise your news feed. Follow trending topics