Padmaavat protests to Padma awards and Karnataka shut down: Top stories
Jan 26, 2018 08:32 AM IST
Padmaavat finally released on Thursday amid heavy security and breathless TV coverage. India's IT capital Bengaluru logged off during a 12-hour Karnataka bandh. These stories made news on Thursday. Here is more about them.
Padmaavat was finally released on Thursday amid heavy security and breathless TV coverage. India's IT capital Bengaluru logged off during a 12-hour Karnataka bandh. These stories made news on Thursday. Here is more about them.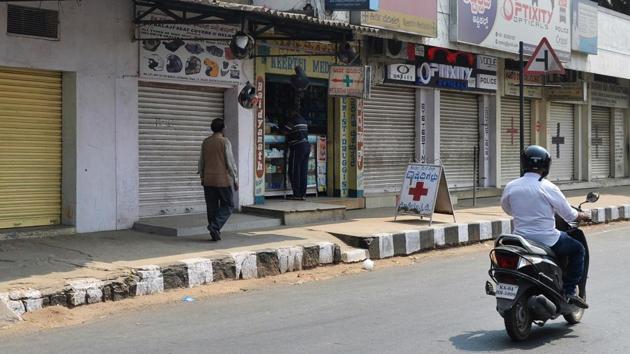 Security and scare as Padmaavat hits movie screens
Thousands of police in riot gear guarded cinemas across north India amid threats of violence by Hindu hardliners opposed to the release of controversial Bollywood movie Padmaavat. Some schools near Delhi closed after an attack on a school bus in Gurgaon while distributors in several states have said they will not show Padmaavat because of fears of violence. Theatres in Madhya Pradesh, Rajasthan and Bihar didn't screen the movie and in Haryana and a handful of theatres screened it in Uttar Pradesh and Haryana.
President Kovind's Republic Day address: Disagree but don't mock someone's dignity
President Ram Nath Kovind called for a "civic-minded" society where one can disagree with views, or even with a historical context, without mocking the other person's dignity. "A civic-minded nation is built by civic-minded neighbourhoods, whether in our cities or our villages. Where we respect the next-door person's space, privacy and rights. Where we do not inconvenience our neighbours while celebrating a festival or while resorting to a protest or on any other occasion. Where one can disagree with another viewpoint — or even with a historical context — without mocking a fellow citizen's dignity and personal space. This is fraternity in action," he said.
Bengaluru switches off during Karnataka bandh over river dispute
A shutdown across Karnataka logged out Bengaluru, India's technology hub, with Infosys, Wipro and other multinational companies suspending work for the day. Pro-Kannada organisations held the 12-hour shutdown to demand more water from Mahadayi river to meet the drinking needs of the people in the state's four northwest districts of Belagavi, Bagalkote, Dharwad and Hubballi. The protesters wanted the Prime Minister to intervene in Karnataka's two-decade old dispute with Goa over sharing Mahadayi water.
16 foreigners conferred Padma awards
Prominent citizens from each of the 10 Asean members are among the 16 foreigners who will be awarded the prestigious Padma awards this year on January 26. Heads of states and governments of the Association of Southeast Asian Nations (Asean) members are currently visiting India for the Indo-Asean summit and will attend the Republic Day functions. Besides the Asean, one person each from Russia,United States of America, Saudi Arabia, Japan, Tajikistan and Nepal were also given the Padma Shri awards.
IAF commando gets Ashok Chakra for role in Kashmir ops
An Indian Air Force commando whose actions led to the killing of six dreaded terrorists in Kashmir last November will be posthumously awarded the Ashok Chakra at the Republic Day parade. The 31-year-old Garud commando, Corporal Jyoti Prakash Nirala, will be the third recipient of the country's highest peacetime gallantry award in the IAF's history. Nirala's Ashok Chakra is among the 390 gallantry awards and other decorations approved by President Ram Nath Kovind.
Assam court goes by heart in baby swap case
Two boys swapped at birth three years ago in a hospital in Assam loved their non-biological mothers and they should choose which family to live with when they turn 18, a court has said. The parents had filed affidavits agreeing to exchange the children and correct the "mistake" made in Mangaldoi Civil Hospital, but in the court the mothers started crying and declined to swap the babies they had raised for almost three years.
Video clip shows armed men killing woman and son in UP village
A social media video clip that shows three armed men shooting and killing a woman and her adult son in a village near Meerut city has led to questions about security in Indias' largest state. Nichhatar Kaur, 60, and her son Balwinder, 26, were in their courtyard of their home in Sarokha village.
US diplomat quits Myanmar's Rohingya crisis panel
Veteran US diplomat Bill Richardson resigned from an international panel set up by Myanmar to advise on the Rohingya crisis, saying it was conducting a "whitewash" and accusing the country's leader Aung San Suu Kyi of lacking "moral leadership". Richardson quit as the 10-member advisory board was making its first visit to western Rakhine State, from where nearly 700,000 Rohingya Muslims have fled in recent months.
Odisha schoolgirl kills herself after 'rape', second incident in a week
A Class 10 student who alleged police were not arresting the man she accused of raping her killed herself in Odisha's Khurda district--the second such incident in the state in three days. She was upset at neighbours gossiping about her, the girl's father said. On Monday, a girl killed herself in Koraput district after she was allegedly raped by four jawans of the state police's anti-Maoist force.
Learn lessons from Doklam standoff: Chinese military tells India
The Chinese military criticised the Indian Army chief's remarks referring to Doklam as disputed territory and warned India to learn "lessons" from last year's standoff near the Sikkim border . "Donglang [Doklam] is part of China and the remarks of the Indian side also shows the illegal border crossing of the Indian troops is clear in fact and nature," said a spokesperson for the People's Liberation Army and the defence ministry.
Sharad Yadav to form new party
Rebel Janata Dal leader Sharad Yadav wil form a new party by mid-February, almost two months after he was disqualified from the Rajya Sabha for indulging in anti-party activities, an official of the faction said on Thursday.