Pakistan concerned over India's drone technology, says it's 'worrying'
Pakistan said India's development of drone technology are subjecting regional strategic stability to increasing strain.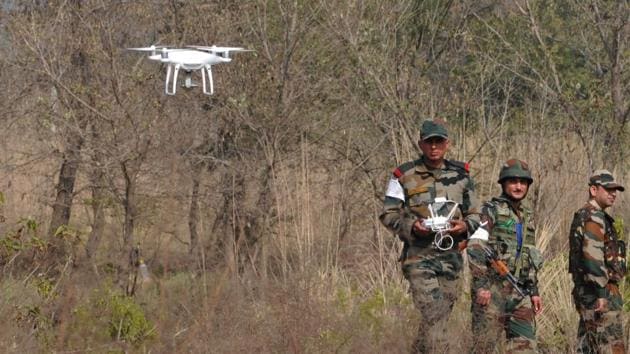 Updated on Feb 28, 2018 08:17 PM IST
Press Trust of India, Islamabad |
Press Trust of India
Pakistan on Wednesday voiced its concern over the development of sophisticated drone technology by India, describing it as "worrying".
Foreign Office spokesman Mohammad Faisal was asked at the weekly media briefing to comment on India's Rustam 2 which was being developed on the lines of the US predator drones for surveillance and reconnaissance purposes.
"India's development of drone technology is worrying when seen in the larger context of its buildup and expansion of military capabilities in the conventional and non-conventional domains, which are subjecting regional strategic stability to increasing strain," he said.
He also said that the use of drone technology should be consistent with the principles of the UN Charter, international humanitarian law and other established norms of responsible state behaviour.
He also lambasted a decision by the Indian Motion Pictures Producers' Association (IMPPA) to uphold ban on Pakistan actors and artists as "yet another evidence of pervading extremism and anti-Pakistan prejudice in India".
"It is unfortunate that art and cinema which bring people together by acting as cultural bridges are being held hostage to hate and xenophobia," he said.
Faisal said that the decision to ban artists followed several others, "including non-issuance of visas to Pakistani pilgrims, refusal to allow participation of Sikhs and Katas raj pilgrims and cancellation of sports matches underscores the growing intolerance and bias prevalent in India exposing it of the sham-ocracy it is increasingly becoming."
To a question that the Foreign Secretaries of Pakistan and India are likely to meet on the sidelines of Kabul Process in Afghanistan, he said, "No such meeting has been envisaged."
To another question about Indian media reported that Indian Foreign Secretary may visit Pakistan in the upcoming days, he said, "I am not aware of any such visit."
But to a question about India and Pakistan plan for an agreement involving the exchange of elderly, mentally challenged and female prisoners, Faisal said, "the proposal is being examined by the Ministry of Interior."
Faisal also said that India's "belligerent posture" along LoC and the Working Boundary has implications for not only Pakistan but also the region.
"Pakistan continues to give a measured and befitting response to the Indian ceasefire violations. It is regrettable that India resorts to such untoward acts that are detrimental to the peace and stability of the entire region," he said.
Faisal also said that India had a knee jerk tendency of levelling baseless allegations against Pakistan.
Close Story