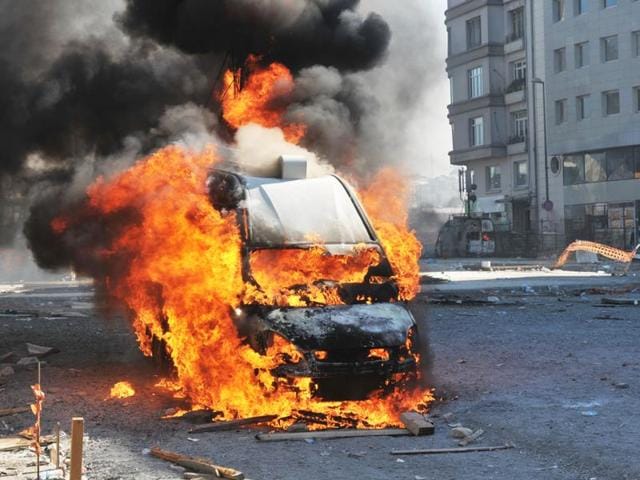 Palwal villagers torch vehicle carrying 'beef'
A mob set on fire a four-wheeler carrying suspected beef along Palwal district and beat up three persons in the Uttar Pradesh-bound vehicle from Rajasthan
UPDATED ON AUG 24, 2016 07:42 PM IST
A mob set on fire a four-wheeler carrying suspected beef in Palwal district and beat up three persons in the Rajasthan-bound vehicle from Uttar Pradesh, police said on Wednesday.
Nearly 700 angry villagers assembled at Mandori of Hathin tehsil after youths on motorcycle spread word about a smell from the moving vehicle. Local people stopped the four-wheeler and assaulted its three occupants, following which police stepped in.
Haryana is among the states that prohibit slaughter of cows and sale of canned beef. Tuesday's incident comes amid increasing instances of beef-related crime across the country, often leading to violent communal clashes.
Hathin SHO Deep Chand said the police arrested the vehicle's driver Israil, cleaner Rakesh and fellow-traveller Abul Gani. While the first two were from Hajipur Nawgama of Alwar in the desert state, the third person belonged to western UP's Hapur.
Police sought to send samples of the 40-quintal consignment for examination, but eventually buried the whole of it in a nearby field on the "demand" of the villagers. "The mob then set the vehicle ablaze," Chand said. "Fire tenders were called."
The incident blocked traffic on Mandkola-Palwal road for some time.
The vehicle was going to Alwar from Hapur. "We registered a case against the three," Chand said. On Wednesday, they were produced before the court, which remanded them in custody."
In another case, Palwal police on Wednesday seized two trucks carrying crushed bones and detained four persons.
The vehicles from Uttar Pradesh were parked near a dhaba of that city when police impounded them. "Local people informed us of foul smell from the trucks," Palwal city SHO Santosh Kumar said. "We called in doctors, who took samples for forensic examination."
"The Gujarat-bound trucks from UP's Sambal had travelled through Gurgaon, where their owner resides," he said. "We are examining the documents."
Close