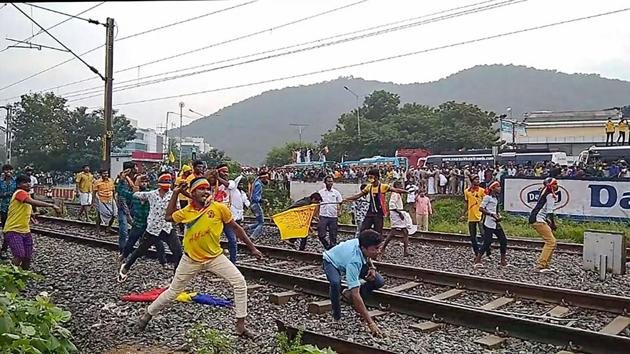 TN CM forms panel to gather caste-wise data even as PMK pushes for 20% quota for Vanniyars
The PMK had recently revived its old demand for reservation ahead of the 2021 assembly elections in Tamil Nadu.
Hindustan Times, Chennai | By Divya Chandrababu
UPDATED ON DEC 01, 2020 08:59 PM IST
Tamil Nadu Chief minister Edappadi Palaniswami announced on Tuesday that a commission will be formed to gather caste-wise data for the state after meeting Pattali Makkal Katchi (PMK) leader and MP Anbumani Ramadoss whose party is demanding 20% reservation in government jobs and education for the Vanniyar community.
Earlier in the day, PMK workers pelted stones on a moving train and blocked roads leading to Chennai near Perungalathur when police prevented them from entering the city. Traffic came to a standstill on Grand Southern Trunk, a national highway. The party workers were coming to Chennai from different districts such as Salem, Dharmapuri, Krishnagiri to partake in the first day of their protest.
"Around 2,000 people have been detained across 65 places," said assistant commissioner of police, M S Bhaskar citing violation of Covid-19 pandemic norms. There was heavy police deployment across Chennai and its borders. PMK workers were seen removing barricades to make way for their vehicles.
Ramadoss who also participated in the protest in Chennai appealed to his party workers to not indulge in unrest. "I request police to allow party workers into Chennai. We want to protest peacefully," he said. "We had announced that we will protest from December 1 two months ago and reiterated it during our recent general council meeting. This isn't a caste issue but a developmental issue where backward communities like Vanniyars should grow for the overall progress of Tamil Nadu." The PMK has been demanding the reservation for four decades without justice, he added.
The PMK and its parent outfit, Vanniyar Sangam have revived this old demand ahead of the 2021 assembly elections in Tamil Nadu. PMK and AIADMK are allies in the state.
Similar agitations fizzled out in the late 1980s after the Most Backward Category (MBC) was created in which Vanniyars were among the 108 other caste groups that were included. But PMK leaders say that their assessment shows that there are only 4 to 6% of beneficiaries from the Vanniyar community.
PMK founder S Ramadoss had lamented in their general council meeting that though they were in alliance with the ruling AIADMK, it was of "no use". Ramadoss warned that if their demands weren't met, they would intensify the protest similar to reservations based agitations led by Patidar in Gujarat and Gujjar in Rajasthan. He added that they were also let down by former DMK patriarch and late chief minister M Karunanidhi on this issue.
The PMK has often switched their partnership between the DMK and AIADMK. "Ramadoss is one of the finest weathercocks in Tamil Nadu politics. He's testing waters to increase his stake," said Ramu Manivannan, head, politics and public administration, University of Madras. "He is useful as a share of vote transfer. The AIADMK needs his support which is why they go out of their way to deal with him whereas the DMK has considerable Vanniyar leaders within their fold. Karunanidhi consciously cultivated that kind of resistance for Ramadoss within the Vanniyar community."
Despite its poor show in the electoral fray in the past decade, PMK retains clout amongst the Dravidian majors. In the 2019 parliamentary elections, PMK's vote share was 5.4% higher than their ally BJP's 3.6%. In 2016 assembly elections, the party went solo projecting their leader and former union minister Anbumani Ramadoss as their chief minister candidate but it drew a blank with a 5.3% of vote share.
Close