As it happened: Parliament adjourned after uproar over notes ban halts debate
The first five days of the winter session, which began on November 16, was marked by disruptions and multiple adjournments as opposition parties raised slogans against the demonetisation move.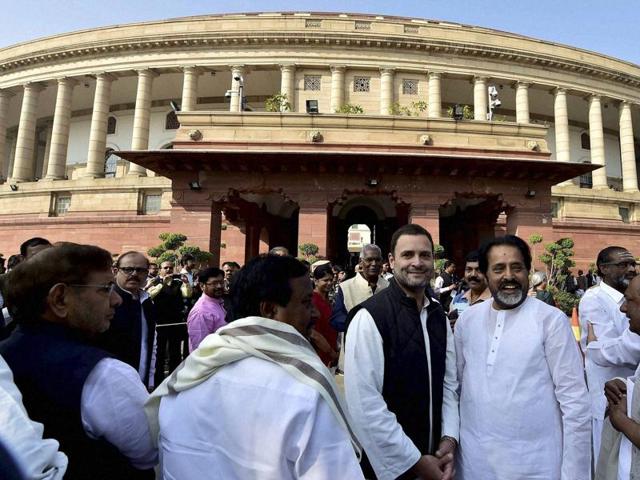 Updated on Nov 23, 2016 02:46 PM IST
The Opposition parties on Wednesday put up a united front against the Centre over demonetisation, as they formed a human chain outside the Parliament chanting slogans and carrying placards demanding Prime Minister Narendra Modi's presence in the House.
The chain began from the entrance of the Parliament near the media stand and stretched across the Mahatma Gandhi statue.
"The nation is standing in line and we are doing just that here," Congress vice president Rahul Gandhi said.
Trinamool Congress (TMC) leader Derek O'Brien, Janata Dal (United)'s Sharad Yadav, and the DMK's Kanimozhi were among the almost 200 Opposition MPs gathered in Parliament premises.
Here are the highlights from the sixth day of the winter session:
2.30 pm: Rajya Sabha descends to chaos again as opposition MPs crowd into the well of the House demanding PM Modi's presence in the House. Deputy chairman Kurien tries - but fails - to get MoS external affairs MJ Akbar to read out the statement on the Prime Minister's visit to Japan. As the protestors drown him out, Kurien adjourns the House till 11 am on Wednesday.
2.20 pm: Congress MP Anand Sharma claims to have a point of order. He says monetary policy is solely the domain of the Reserve Bank of India and yet a departure was made on November 8 when Prime Minister Modi made the announcement banning Rs 500 and Rs 1,000 notes. This is a violation of constitutional norms.
As the BJP starts protesting, Kurien snaps at them, "sit down and to let me do my job!" He then asks Sharma to point out where in the constitution it says so.
Read | Summon PM Modi over demonetisation: Mayawati to President
2.14 pm: As Naresh Agarwal continues to question the Chair as to why he is not summoning the Prime Minister, Kurien responds, "The issue is demonetisation, which falls under the finance minister and so I can ask Arun Jaitley to be here. If you ask me to ask any other minister or the Prime Minister, I cannot do that, there is no convention for that, no rule for that."
2.00 pm: Rajya Sabha resumes for the third time today. As Samajwadi Party MP Naresh Agarwal speaks in the House raising a point of order, BJP MPs begin protesting against his comment. MoS Mukhtar Abbas Naqvi says, "Naresh Agarwal alleges that BJP members are here on rent. He must apologise
As the ruling front continues to outrage, Kurien reprimands Agarwal: "You cannot address another member in demeaning terms." He expunges the remarks.
1.50 pm: Opposition parties will launch country wide protest - Aakrosh Diwas - on November 28 over demonetisation issue, reports ANI
12:40 pm: Government is ready for debate; we're ready to discuss all aspects: says Ananth Kumar in Lok Sabha, before it is adjourned for the second time on Wednesday. Speaker Mahajan is forced to end the lower House's proceedings as opposition MPs' sloganeering reaches a deafening high.
The Lok Sabha is adjourned till 11 am on Thursday.
12.30 pm: The uproar continues unabated but ruling party MPs continue about their business as normal - for instance, External Affairs MoS MJ Akbar reads out a report on the Prime Minister's recent visit to Japan.
12.20 pm: As opposition parties continue demanding for a debate, Venkaiah Naidu says he doesn't understand why the opposition is being adamant about disrupting the House when in fact discussion has started in the Rajya Sabha. He urges Speaker Sumitra Mahajan to conduct the proceedings of the House and not to adjourn. Despite the loud sloganeering, she refuses the adjourn and the session continues.
The Speaker also turns down the opposition demand for an adjournment motion on demonetisation.
12.05 pm: Lok Sabha session reconvenes. Opposition party MPs including Sudip Bandyopadhyay of the Trinamool and P Karunakaran of CPI(M) reiterate their demand for a debate on demonetisation to be conducted under rule 56, which entails voting and suspension of all other business. "Not just the opposition, but parties within the ruling coalition is also for a debate under an adjournment motion," says Karunakaran.
12.00 pm: As uproar over demonetisation continues, chairman Hamid Ansari adjourns the House till 2 pm.
11.35 am: Rahul Gandhi speaks to reporters outside the Parliament. "The Speaker is refusing to give us a debate under an adjournment motion. Question is not whether PM sits there, question is, are we being allowed to speak," ANI quotes him as saying.
Read | PM carried out the world's biggest 'impromptu financial experiment': Rahul
11.20 am: Trinamool Congress' Sukhendu Sekhar Roy asks for a ruling from Chair on why the PM is making policy statements outside on demonetisation, when the Parliament is in session as other MPs raise a point of order in the House. Kurien adjourns the session till 12 pm.
11.10 am: "Government answerable to the House and Parliament is answerable to the people. Modi is violating the very constitution he took an oath on. He has to come and answer," says CPI(M)'s Sitaram Yechury in the Rajya Sabha.
Deputy chairman PJ Kurien insists that the Prime Minister will come and members must start the discussion. "Why do you presume he won't come," he asks. Yechury responds that the discussion has already started but the PM is nowhere in sight.
11.00 am: Lok Sabha session begins only to be adjourned minutes later till 12 pm. PM Modi is present in the hall as opposition parties begin protesting. Parliamentary affairs minister Ananth Kumar says the ruling party is ready for debate on demonetisation and that it is the opposition that is running away from the debate.
Read | Demonetisation helped banks improve fund situation, says Jaitley
10.45 am: Prime Minister Narendra Modi holds a meeting in Parliament with senior ministers including finance minister Arun Jaitley, Rajnath Singh, Venkaiah Naidu, and Ananth Kumar.
10.25 am: "Our demand is that the Prime Minister should come to the Parliament and address the issue. He was the one to announce the demonetisation decision," says Rajya Sabha MP CPI's D Raja as leaders of opposition parties form a human chain near the Gandhi statue in Parliament premises.
10.10 am: ANI reports that a meeting is underway at urban development minister Venkaiah Naidu's chamber in Parliament. Home minister Rajnath Singh, parliamentary affairs minister Ananth Kumar, MoS Mukhtar Abbas Naqvi are also present .
10.00 am: MP's protest outside Parliament, chant slogans, "Jan Virodhi Narendra Modi hosh mein aao, hosh mein aao," (anti-people Narendra Modi, come to your senses).
9.45 am: Leaders of opposition parties gather near the Gandhi statue in Parliament premises to protest against the government's demonetisation move.
Read | Demonetisation politics heats up: Govt hits back as Oppn plans nationwide stir
Close Story
Personalise your news feed. Follow trending topics